More major site development is planned in Bremerhaven now that the long-delayed €32.7 million reconstruction of the German port's important Westkaje has been completed, writes Tom Todd.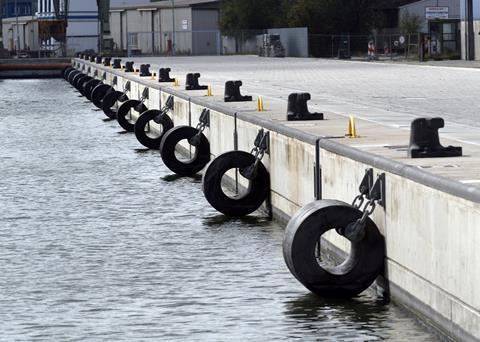 Announcing the end of a project that has taken twice as long to finish as originally planned, Science and Ports Senator Claudia Schilling said "the further development of the port is a central task for the future".
And Robert Howe, head of bremenports added that his port management company was "currently preparing to push ahead with all speed on further projects … aimed at strengthening port infrastructure".
Howe mentioned long-standing plans to rebuild the Columbuskaje, home of the port's cruise shipping centre, and also to reshape the entrance to Bremerhaven's busy Fishing Port
When it was announced in 2015 that a 500m section of the 800m Westkaje was to be rebuilt and modernised, the job was expected to take just 18 months. However work did not begin until 2017. When it did, the extraction of some 2,600 old wooden quay piles and foundations dating back to the early1900s and located in front of the planned new quay proved tougher than expected.
Howe said this was just one of the many difficulties of a complex project. "A multitude of detailed problems had to be resolved", he explained, "and this ultimately meant that completion was delayed".
The building of the new sheet pile wall behind the old quay wall along with parallel deepening has widened the Kaiserhafen III harbour basin by 9m.This makes it easier for large ships using the new quay to manoeuvre – specifically the giant vehicle carriers which use the nearby Kaiserhafen auto terminals but also larger ships which might call for repair or refurbishment at the adjacent Lloyd Werft.
The latest data to be released for the Westkaje project, which was handled by a construction consortium headed by August Prien, reveals that around 4,400 tons of sheet pilings and 3,500 m3 of reinforced concrete were used in the construction of the new facility.
Some 55,000 cubic metres of soil were excavated and other work included the installation of sixteen 1000KN bollards along with six separate 2000KN storm bollards. A new 120m long landing pier was also built for bremenports workboats at the northern end of the Kaiserhafen III.