Work on the first phase of a multi-million pound project to replace Morecambe, UK's wave reflection wall being carried out by VBA joint venture, is progressing well.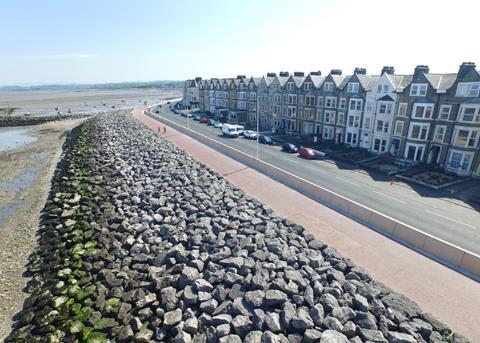 VBA, which comprises VolkerStevin, Boskalis Westminster and Atkins, has so far replaced 586 metres of wall between Morecambe Town Hall and Broadway and construction of a new 'up and over' feature is underway opposite Thornton Road. The up and over features will create greater all year round access to the promenade and viewing platforms from which to enjoy the surrounding bay. A further two are planned opposite St Christopher's Church and Elms Court.
Mark Gardner, framework director for VBA, said: "The project is coming along really well and it is exciting to see the wall going up piece by piece down the promenade. It will not only look a lot better but will also reduce the risk of flooding to Morecambe, so will be a great benefit to the local community. We are excited to be preparing plans for the second phase of the project." Other new features in the replacement wall will include the incorporation of nearby street names and patterns inspired by the area, along with new surfacing, seating and lighting.
Councillor Janice Hanson, Lancaster City Council's Cabinet member with responsibility for economic regeneration, said: "The works completed so far are very impressive and we've received many positive comments from the public. They are an important and welcome improvement to the promenade which will protect the town from the threat of coastal flooding for years to come."
Replacement of the wave reflection wall is taking place in three stages and this first phase will see the replacement of 1,800 metres of the wall on Marine Road East between Lord Street and Happy Mount Park.
Detailed plans are currently being drawn up for phase two, which will focus on the Marine Road West area from the Midland Hotel to the Battery.
Phase three of the six year project will see work taking place on Sandylands Promenade.
The project is funded by the Department for Environment, Food and Rural Affairs, the Environment Agency and Lancaster City Council.
In total the three phases will cost £10million and the new wall will significantly reduce the risk of flooding to large parts of Morecambe. The wall will withstand predicted high tides and storms for generations to come, while reflecting the aspirations of the town and the beauty of the Bay.
By Jake Frith