The responsibilities of navies and coast guards are becoming more complex and demanding. At MS&D, the International Conference on Maritime Security and Defence held in conjunction with SMM, high ranking experts will discuss current trends and future challenges.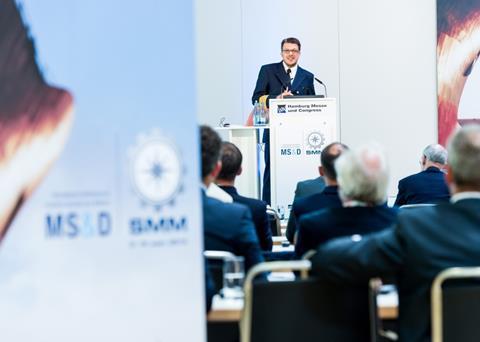 Protecting peace, fighting piracy and drug trafficking, guiding merchant vessels safely to their destinations: The range of responsibilities for navies and coast guards has changed significantly. At MS&D, the International Conference on Maritime Security and Defence to be held on 7 September, the opportunities and risks resulting from recent developments will be discussed under the heading of "Naval Technology for Naval Operations". The conference is part of the leading global maritime trade fair SMM, which will take place from 6 to 9 September 2016 in Hamburg.
"With forward-looking topics, highly distinguished speakers, and compelling discussions, MS&D will address an enormous range of subjects. Conference participants will be able to see clearly where the market is headed," says Bernd Aufderheide, President and CEO of Hamburg Messe und Congress GmbH. The list of speakers includes high-ranking naval officers from around the world as well as industry representatives. The conference will be subdivided into a plenary session and two panel discussions titled "Naval Operations" and "Naval Technology". The conference is sponsored by the highly respected maritime security and defence magazine Naval Forces, The International Forum for Maritime Power.
A keynote speech by the German Navy leadership will give an overview of the global maritime security situation and its repercussions for the mandates of naval forces, one of which is rescuing refugees and fighting human trafficking in the Mediterranean.
The ensuing panel discussions will focus on the core topics of naval operations, piracy, drug trafficking, cybercrime as well as planning and designing naval ships. The discussion will also touch on the formation of regional naval networks to confront asymmetric threats such as piracy and terrorism.
Michael Howlett, Deputy Director of the International Maritime Bureau ICC-Commercial Crime Services, will present an overview of the statistical development of piracy attacks by armed groups, and suggest possible solutions.
Naval vessels are masterpieces of high-tech engineering and digitalisation. But advanced technology also makes them more vulnerable to cyber attacks. Dietmar Hilke, Director – Cyber Security at Thales Germany, will explore in his lecture how naval units in particular can defend themselves against the threat of cyber crime.
In parallel with the conference, numerous shipyards, suppliers, and service providers from the maritime security segment – including key players such as Lürssen, Abeking & Rasmussen, ThyssenKrupp Marine Systems and German Naval Yards – will be showcasing innovative solutions.
By Jake Frith