Fairplay Towage's new harbour tug is the latest to feature Rolls-Royce MTU Series 4000 engines certified to IMO Tier III.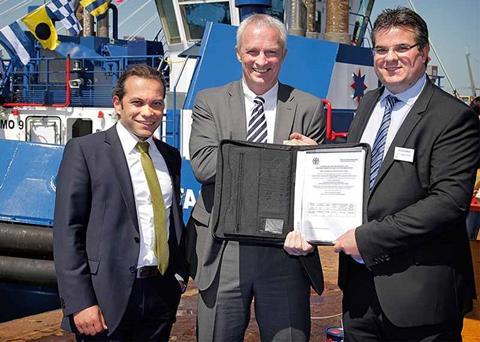 The diesel gensets feature an SCR exhaust after-treatment system and are some of the first gensets in the world already certified as complying with IMO Tier III emission levels, which come into force in 2016.
Rolls-Royce delivered the two MTU 16V 4000 M63L main propulsion engines, each delivering 2,000 kW, one Series 4000 M23F 16-cylinder diesel genset with 1,520 kW and the MTU-developed SCR system. The exhaust after-treatment system featuring selective catalytic reduction technology is combined with the diesel genset.
"We're rather proud of being able to demonstrate the capabilities of this pre-series, space-saving solution to our client in the course of these trials," says Nadine Buhmann, head of marine and offshore business, MTU.
Built by the Spanish shipyard Astilleros Armon, the new Fairplay tug has a bollard pull of 90 tonnes and was handed over in the Port of Rotterdam in May 2015. Significantly reduced NOx emissions were recorded in the course of trials and on the voyage between Spain and Holland: 81% below the values currently required by IMO Tier II emission regulations.
The 30m tractor tug features a combined diesel-mechanical and diesel-electrical propulsion arrangement. The diesel-electric propulsion system is primarily used when maneuvering in and out of port, with the two main engines cutting in for mechanical propulsion when running at full load. The SCR system is said to minimise emissions to facilitate environmentally-compatible operation in metropolitan areas.
By Rachael Doyle