Rolls-Royce and Stadtwerke Konstanz, have teamed up to develop a liquid natural gas (LNG) propulsion system based on MTU engines for a new Lake Constance ferry. The plan is to have the ferry running on gas between the two Lake Constance towns of Constance and Meersburg by 2019.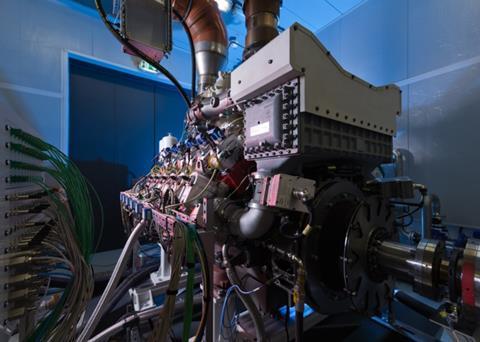 The new ferry will be one of the first in Europe to be powered by a high-speed pure-gas engine and it will feature low pollutant emissions and improved cost effectiveness.
Dr. Norbert Reuter, Managing Director of Stadtwerke Konstanz GmbH, at the announcement of the cooperation agreement on 10 December 2015 in Constance said: "We are delighted that MTU, our partner of many years standing, is developing a natural gas propulsion system for our new ferry. The deciding factors for us to venture into a new world of propulsion for our fleet are the excellent
environmental compatibility of the gas engines and the possibility of saving fuel costs, while maintaining our current requirements in terms of the performance and manoeuvrability of the vessel. Lake Constance is Europe's largest reservoir of drinking water so it is very important for us to guarantee safe and environmentally sound operations."
The new 8-cylinder MTU gas engine with a rated output of 750 kilowatts is based on proven MTU Series 4000 diesel engines for workboats. The clean combustion concept will make it possible to meet the IMO Tier III emission standards without the need for additional exhaust after-treatment. By comparison with a diesel engine without exhaust after-treatment, the gas engine will emit no soot particles and no sulphur oxides, 90 per cent less NOx and 10 per cent less greenhouse gas.
The new 8V 4000 gas engine incorporates gas injection for individual cylinders, a dynamic engine control system and a safety concept optimised for natural gas operation. The new gas engine series is being developed to ensure that it meets the particular load profile of the Lake Constance ferries, with acceleration comparable to that of the MTU diesel engines. In the development of the 8V 4000 engine, MTU benefits from its previous experience in stationary gas engines and from development work now being carried out for a 16-cylinder marine gas engine, which is currently underway and has just completed initial bench tests. The first pre-series engines will power a tugboat in 2017, which is currently being built by Damen shipyards for Svitzer.
Marcus Wassenberg, Chief Financial Officer at Rolls-Royce Power Systems "We are convinced that gas engines will become increasingly important as supplements to tried and tested diesel engines for shipping."
Stadtwerke Konstanz has relied on MTU engines since 1980. The six ferries operated by the company provide ferry services 365 days a year, 24 hours a day and they carry around 4.2 million passengers and approximately 1.5 million road vehicles a year.
By Dag Pike