Japanese navigation electronics specialist Furuno has announced that it is bringing side-scanning capabilities to its flagship NavNet TZtouch and TZtouch2 MFDs with its latest network sensor called the DFF3D.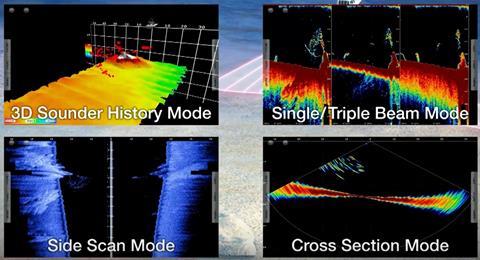 This multi-beam Sonar brings the capability to scan port to starboard under the vessel. This deep-water Sonar delivers a sidebar detection range of an unprecedented 650+ feet, while being able to see down to over 1,000 feet.
The DFF3D utilizes a new, compact multi-beam transducer, along with Furuno's own advanced signal processing. The transducer and fairing block is only 14 inches long, which Furuno says makes this a perfect fit for boats of all sizes. The transducer features a built-in motion sensor, which keeps the images stable, even in rough seas. Additional transducer styles, including a transom mount, are forthcoming. The DFF3D features four display modes to choose from and allows vessel operators to customize the display with the modes they use most. Choose from Cross Section, 3D Sounder History, Triple/Single Beam Sounder and Side Scan.
The Cross Section mode displays a real-time sea column echo in 120-degrees port and starboard. The 3D Sounder History mode gives operators an intuitive and easy to understand 3D image of the seafloor.
The Triple/Single Beam Sounder mode allows operators to display traditional sounder images on the screen, or you can display left, centre and right images all simultaneously. All three of the beam angles and beam widths are selectable. Finally, the Side Scan mode shows you the shape of structure in a high definition image, both port and starboard. This mode is ideal for searching the seabed for any structures.
By Jake Frith