On display at the Pontoon and Dock Company's stand at this year's Seawork International were models from Multi-Mover Europe''s range of battery-powered tugs.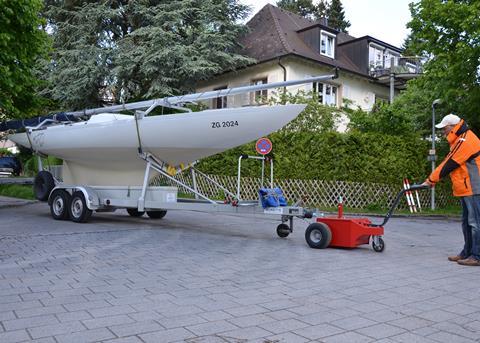 Ably demonstrated by Jeroen Offerman, owner of the Netherlands-based company, was the XL35, capable of pulling a single or twin trailer.
Speaking of the benefits of the tugs, Mr Offerman said: "There is no need for pushing, no need for tractors which can't be used indoors anyway and no need for a driving licence."
"They're safe," he added. "You can go slow, they're precise and compact."
The company has been manufacturing the hand tugs for eleven years, now producing a range comprising six models capable of pulling between 1500kg and 80 tonnes.
The XL35 can last for two to three days on a single battery charge of two to three hours. It pulls three and a half tonnes although a similar sized model in the range can move up to seven and a half tonnes.
The model comes with standard or winter tyres and prices for the series range from £1,800 to £50,000.
By Rebecca Strong