In early April, a well-equipped workboat with type designation Alusafe 1500 MPV (Multi-Purpose Vessel) was delivered from Norway's Maritime Partner AS to the Port Authority of Aalesund.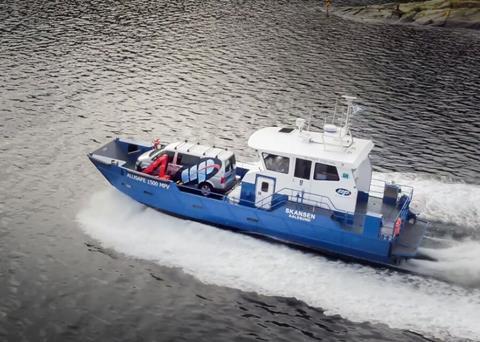 The newly developed multi-purpose vessel will carry out an array of assignments along the coast, as well as in the harbour and along the quay fronts of the Aalesund/Sunnmøre region of Norway. The vessel has received approval according to the new regulations for coastal vessels and for oil spill response duties. It is also fully equipped to assist the fire department in firefighting operations and rescue-diving missions.
This new workboat has been given the same name as the previous Port Authority workboat, and will be relieving its predecessor Skansen, which has been operating the waters of the Aalesund region since 1975.
"The previous vessel should have been replaced many years ago," said Port Captain Anders Bjørdal, from The Port Authority of Aalesund.
"Our new vessel meets all our traditional needs. In addition, improved stability and high towing capacity makes Skansen an important part of our emergency preparedness, especially within IUA (Inter-municipal Unit against Acute pollution) Sunnmøres efforts against acute pollution situations." explained the Port Captain.
This high-speed workboat will carry out assignments throughout the Port Authorities of Aalesund's operational areas, which include the four municipalities Aalesund, Sula, Giske and Haram.
The new Skansen, which is 14.99 metres in length and 4.9 metres in width, is of a brand new design, with a large extent of new development. The vessel is certified for oil-pollution response operations, and is equipped with high towing capacity for towing oil booms. It is also fitted with a water cannon for firefighting operations.
On the foredeck, the vessel is equipped with a capstan winch, with a capacity of 3 tons, and a crane with a lifting-capacity of 4.5 tons. The reinforced deck can withstand concentrated loads, and is approved for carrying cargo up to a weight of 5 tons in order to load heavy equipment needed for various operations, and collecting heavy objects floating in the water.
"In addition to performing tasks such as craning and towing, placing floating piers and such, it is very useful for clearing objects and debris from the water to keep the fairway open, and performing maintenance tasks on navigational installations," said Port Captain Bjørdal.
Having a large load capacity, and also a hydraulically operated bow-ramp, provides the opportunity to employ the vessel as a transportation platform for carrying heavy machinery such as ATVs (All-Terrain Vehicles,) fire engines or police patrol cars to otherwise inaccessible areas.
The bow-ramp, which can also be remotely operated from the helmsman's position at the bridge, provides opportunity to deploy oil booms from deck. The aft deck is fitted with one additional capstan winch, with 1 ton pulling capacity, and a remote-released towing hook, operated from the helmsman's position at the bridge.
"This vessel provides an excellent working platform for ensuring fairways are clear of debris, and in addition it will also be an effective aid for pollution response and other perils near the ports. Skansen can also be an effective tool for the Fire- and Police-Departments, by simplifying some of their operations in remote areas", says Port Captain Anders Bjørdal.
Aalesund Fire Department and the Port Authority of Aalesund have an agreement where the fire department can use the vessel for training operations 15 hours every year. Fire Chief Geir Thorsen say they will utilize the new Skansen in a number of different ways.
"Should a boat or ship catch fire, this vessel will make the firefighting operation much more efficient. This new vessel is much more versatile than its predecessor was, it can carry more equipment and has an enormous range of application. We will even be able to fit our smallest fire engine aboard the vessel, should we need to bring additional capacity to the area," said the Fire Chief.
The vessel is developed to handle a wide array of different scenarios, such as assisting other vessels in distress with towing, placing oil booms, fire-fighting operations and underwater inspections.
"It's ability to place and tow oil booms, and provide a substantial resource for rescue-operations at sea, diving missions and similar operations is very useful for the fire department," says Geir Thorsen, Fire Chief at Aalesund Fire Department.
The Alusafe 1500 MPV is constructed from aluminium, and the superstructure is constructed from fibreglass sandwich. The superstructure is mounted on dampeners, to reduce noise and vibrations from the engine-room to the wheelhouse. The wheelhouse is arranged with a small galley, and a seating area with room for six people, giving a total capacity in the wheelhouse to seat eight people. A locker room with sinks and toilet facilities is placed below deck.
According to Maritime Partner, this new vessel design has raised interest from port authorities and other professional users. It is also applicable as a support vessel for fish farms and diving operations, amongst other uses.
See this vessel on the water at Seawork International 2016 and on stand PB133.
By Jake Frith