Neptune Shipyards in the Netherlands has delivered the multipurpose Eurocarrier tug/workboat 'Aitana B' to Basque Country based Zumaia Offshore S.L.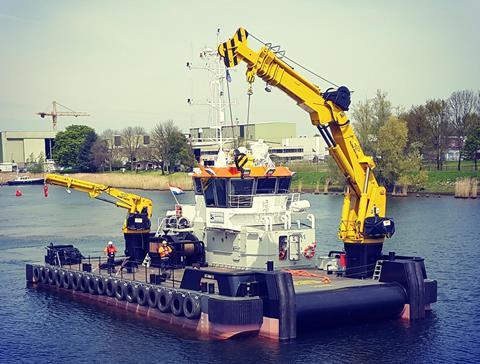 The development and growth in popularity of the pontoon-shaped multipurpose workboat has seen what was originally a basic and humble platform suited for roles such as supporting the dredging industry grow in power and capability becoming extremely sophisticated craft.
Developments include larger deck cranes, the ability to carry out longer coastal tows, DP capability and even as a platform for motion-compensated personnel transfer systems. Neptune Shipyards Eurocarrier range of workboats are prime examples, Aitana B being one of the largest in the series.
Zumaia Offshore's latest addition has an extensive list of capabilities, the owner targeting employment in: windfarm and other renewables projects; offshore energy; dredging support and port construction.
Aitana B is classed by BV with notation: 1+HULL-MACH, Special purpose/multipurpose ship, Unrestricted area, AUT-UMS, Dynapos SAM. It also complies with Dutch national authority regulations. Main dimensions are: LOA 27m, breadth 12m, draught 3m, deck space 150m2 with main tank capacities: fuel 124m3 and fresh water 76m3.
Cummins provide the main machinery with two QSK38-M diesels developing 2,762bhp total at 1,800rpm driving twin 1,850mm fixed-pitch propellers in nozzles. A 300kW thruster is fitted forward, 250kW thruster aft and performance figures are 35tbp and speed 10.8kn. Caterpillar provide no fewer than four generators, three C9, 200kW, 250kVA main sets and a C4.4, 103kVA harbour generator. A 10bar compressor is supplied by Atlas-Copco with Hamworthy providing an ST1A-C sewage plant. An RH Marine/DPT 4500 DP-1 installation and communication outfit complying to GMDSS Area 3 are highlights of the electronics provision.
The deck equipment specification reflects the many roles within the vessel's capabilities. An anchor-handling and towing winch is located alongside the offset accommodation with 100t at 9m/min and 50t at 7m/min pulling force respectively and brake loads of 125t and 65t again respectively. The anchor-handling drum holds 400m of 52mm wire with 550m of 36mm wire on the towing drum. A 30t SWL Mampaey hook is also provided.
Heila HLRM 280-3SL and 140-3S deck cranes are included, the former (forward) has an 11t (at 18.5m) SWL fixed hook and 10t SWL winch: the latter, aft model has a 10t SWL fixed hook (at 12.17m). Other deck equipment includes: a 15t tugger winch, 6mx1.2m bow roller, Triplex 115t SWL guide pins forward, Triplex 200t SWL chain stopper shark jaws, two towing pins, and four-point mooring capability. A moonpool is built in to the hull and a 25t SWL A-frame is available for installation forward or aft.
Vessels with such wide-ranging capabilities often require facilities for extra personnel beyond basic crew requirements and Aitana B has heated and air-conditioned accommodation for 12 persons in six double berth cabins.
By Peter Barker