The 'Coastal Standard' was built at Dakota Creek Industries Shipyard in Anacortes, Washington, USA, with a design developed to maximize cargo carrying capacity while minimizing construction and operating costs, says the Dakota Creek Industries shipyard.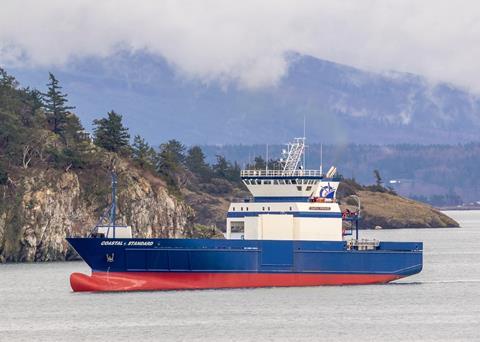 The 2200 DWT freighter vessel is 242 ft long with nine single cabins for crew and one cabin with four crew berths for extra crew or guests.
The German-made Schottel Propulsion system is an important part of the concept. The robust Schottel Controllable Pitch Propeller type SCP 77/4-XG (2.300 kW) provides a high free running speed and excellent manoeuvrability and operability, with no need for a reversing gear – contrary to conventional shaft line solutions. The pitch of the propeller blades can be adjusted for manoeuvring and to adapt to changing operating conditions. The SCP is supported by two Schottel Pump Jets SPJ 85 RD (360 kW each). The two SPJs are fully capable azimuth thrusters, enclosed completely in the vessel's hull. They are manoeuvring aids and, at the same time, redundant take-home devices. For the customers and employees of Coastal Transportation this means the utmost in safety and reliability.
The Schottel Group, with its headquarters in Spay/Rhine, is one of the world's leading manufacturers of propulsion and steering systems for ships and offshore applications. Founded in 1921, the company has been developing and manufacturing azimuth propulsion and manoeuvring systems, complete propulsion systems with power ratings of up to 30 MW, and steering systems for vessels of all sizes and types, for about 60 years. Around 100 sales and service locations worldwide ensure customer proximity.
By Jake Frith