Engine marinser Nanni has added another engine to its range of marine diesels that form their Platinum range of higher performance engines and once again they have chosen a Scania engine for the base writes Dag Pike.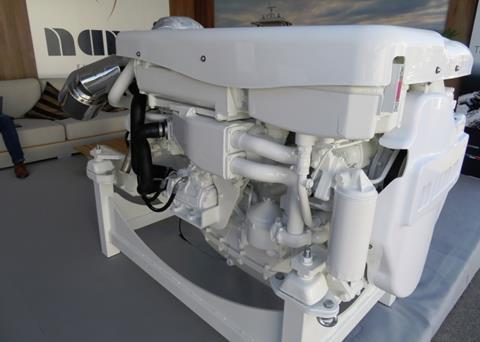 This new engine, the N13 is based on a Scania 6 cylinder engine, the second Scania engine that Nanni to add to its range. The previous engine, the N16 was based on the Scania V8 diesel. The engine developed by Nanni comes in 6 versions to meet the requirements of different operations in the leisure and workboat sectors. The top of the range unit produces 925 hp at 2300 rpm and is aimed at the leisure market with limited hours of operation whilst at the bottom of the range is an engine producing 650 hp at 2100 rpm which is aimed at the heavy duty displacement boat sector on continuous duty cycles.
All of the N13 engines are based on the Scania 6 cylinder in line engine that offers a high power density combined with a robust design that offers high torque at low rpm. The fuel system is a common rail direct injection combined with extra high pressure. The engine displacement is 12.7 litres and the engine features turbo-charging with an after-cooler. The cylinder liners are of the replaceable wet type and the engine offers a lot of installation flexibility and it can be matched to most types of drive system including water jets.
The fuel consumption has been optimised at maximum torque and the emissions can meet IMO Tier II standards as well as EPA Tier 3 for the US market. The cooling system is a close circuit fresh water system with sea water cooling via a heat exchanger that allows charge air cooling. Keel cooling is an option with many installations.
Nanni is a specialist company the offer a wide range of marine engines that are all based on engines produced by some of the major diesel engine manufacturers. The company has established a good reputation amongst boats builders and combines dedicated marine engines with a high degree of reliability and service.