French manufacturer FullOceans says it has brought an innovative approach to the navigation aid equipment market thanks to a new fixed pricing model delivered through an online shop.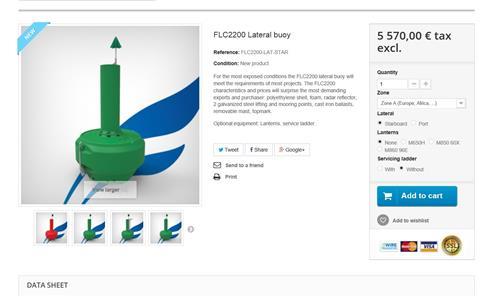 Offering clear and low prices and transparency in quotations for quality products, FullOceans proposes a complete range of polyethylene marine buoys with optional equipment available.
For the first time, all professionals can now connect to www.fulloceans.com, choose their products, compare prices and characteristics, and create their own quotes or directly purchase their navigation aid buoy online.
A simple 4 step process:
1. Select your buoys size: FLC1200, FLC1500, FLC1800 or FLC2200
2. Choose your optional equipment (topmarks, lanterns, mooring solutions …)
3. Get an immediate quote
4. Buy it online and get value for your money!
With FullOceans you can quote your project in few minutes, purchase immediately and receive what the company claims are the most cost effective buoys of the market in few weeks all over the world.
Visit FullOceans at Seawork International 2016 on stand PY96.
By Jake Frith