"In 13 years at Baltic Workboats, I've performed just about every role in the company" says the 42-year-old in the airy boardroom of the Saaremaa, Estonia-based manufacturer.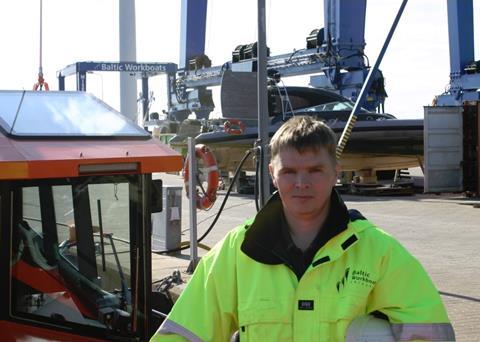 Our chat had followed a personal factory tour, in which Neme could indeed, answer every question in detail about even the smallest aspect of every boat we saw under construction, such as the clever deck hood arrangement of a 20m Pilot boat, one of a two boat order we saw under construction for a Danish customer:
"We try to consider ease of ownership for the full life-cycle of all our boats. So, a pilot boat which will probably be in service for 20 years will be in such regular use it will need a re-power at about 10 years old. With this in mind, our smaller pilot boats, which have their engines under the deckhouse, have a large deck access hatch bolted down forward of this. When it comes time for the boat's mid-life refit, we don't expect our customers to have to cut a section of deck away to get at the engines, which would be the case with some other boats we have seen. Instead, our deck hood simply unbolts and lifts away, and our engine bearers are carried well forward, directly under this large aperture. It's then a much simpler job to slide the engines forward and then lift them straight out."
Neme started at Baltic Workboats 13 years ago, in After Sales Manager and After Sales Engineer roles based at the company's Tallinn office, but moved to the Saaremaa factory, firstly to project manage a 24m patrol boat build in 2006, and then permanently in 2010, something of a homecoming for Neme, who was brought up on the island.
Old enough to have experienced the last few years of Soviet occupation in Estonia, Neme's first introduction to the sea was somewhat surprising to this reporter: "The sea was shut when I was a child. The entire island of Saaremaa, was a military zone with beaches under constant patrol with fishing from the tiniest boats and even swimming prohibited". However, the youngster soon made up for it, seeing most of the rest of the world in a few short years after Graduation from the Estonian Maritime Academy in a first job as a Marine Engineer on Dutch Flagged cargo vessels.
We'd just been wowed by the company's state-of-the-art 3D virtual design suite, so it's clear that Baltic Workboats is not shy about embracing the latest technologies, but it's encouraging that companies still employ staff like Neme, with an almost instinctive knowledge of how a good boat should look and the breadth of skills to see a build through from the first scratchings, "often initially with a potential customer using pencil and paper at a trade show booth", right through to the finished product.
By Jake Frith