A new efficient Wagenborg ferry, designed by Van Oossanen was baptised 'Fostaborg' at the yard of its builder, Gebr. Van Enkhuizen in Makkum in March.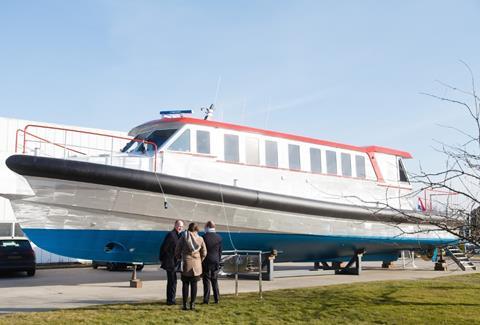 The compact design aims for the highest efficiency and comfort and features Van Oossanen's patented Fast Displacement Hull Form (FDHF). Concept design and engineering were delivered by Kroes & Poortinga. Van Oossanen provided its critical naval architecture, including the hull design.
This very comfortable and fast ferry will take passengers from Holwerd to Ameland island in just 30 minutes, starting March 28th 2018.
This new delivery is part of a regional project that will enable passengers to travel from Leeuwarden to Ameland in one hour.
ENERGY-EFFICIENT MPV
In other Van Oossanen related news the first of a series of three RWS MPV 30s, Merwestroom has also been launched.
This multipurpose vessel for Rijkswaterstaat is part of a series of three MPVs that will combine multi tasks with a focus on energy efficiency. The vessels will be sailing on inland waterways and on the Waddenzee and Noordzee up to 30 miles offshore. March 2018 the first vessel was launched at Bijlsma Shipyard, scheduled to be taken into service by the Rijksrederij end of 2018.
Van Oossanen Fluid Dynamics optimised the MPV30 hull design, including appendages, by means of a multi-step CFD analysis. The aim was to realise the lowest possible overall resistance. The Computational Fluid Dynamics analysis included:
*a basic hull analysis to define the hull resistance and identify spots for improvement
*improvement of the bow shape according to the analysis results, taking into account all relevant regulations and demands for the interior space
*improvement of the aft hull shape according to the basic analysis results
*combining the bow and aft optimisation and test this improved hull design by an overall CFD analysis including the appendages – taking also aspects like the stern wake into account, to enable a detailed analysis for power and speed
*an analysis of the wave height at 30m distance from the vessel to minimise these according to the vessel's use on inland waterways
Van Oossanen claims the end result was an overall resistance reduction of 7 percent.
Visit Van Oossanen subsidiary Hull Vane BV at Seawork International 2018 on stand PG41.