With its condensed three days of networking and events Seawork International has always been a key event for the Commercial and Freight Forwarding divisions of UK-headquartered heavy lift shipping specialist Peters & May Group, with 2017 proving to be the best year yet.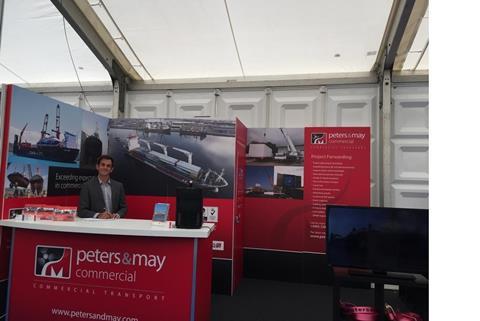 2017 has seen Peters & May utilise Flo Flo and heavy lift vessel options to transport a whole range of cargos not just workboats and tugs, but more complex project cargo operations made up of hundreds of pieces.
Peters & May on stand PG141 in Hall 2 proved popular and used the event to showcase the launch of the latest video with impressive aerial footage of the multifaceted loading of over 11,000 cubic metres of wind turbines from quay to ship.
This was featured alongside another quick film giving an insight to the background planning and preparation work that went into the direct shipment of a record breaking 52-metre Austal Alu Cat fast-ferry from the island of New Caledonia to Greece.
Closing Seawork off Robert Blades, Peters & May Commercial Manager stated- "After a fantastic start and a concentrated effort on increasing our market share in the commercial sector, we have been pleased that the market has seen our offering and responded positively, with 2017 more than doubling expected predictions on volume of commercial shipments"
He continued "Seawork is an important part of our continued growth and an essential platform to meet with our clients face to face in order to listen and work through custom solutions for their needs"
The company has also released videos of these impressive shipments on its website.
By Jake Frith