Cork, Ireland-based Celtic Tugs has taken delivery of a new tug, described as being expected to 'rejuvenate the company's existing fleet of three tugs' already owned and in operation by the company.'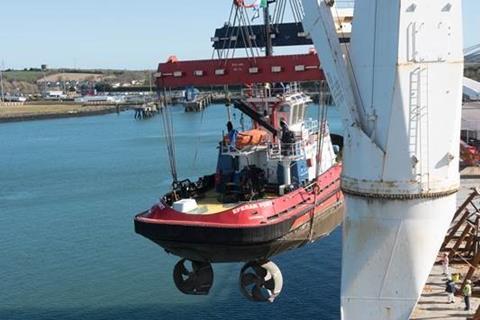 Celtic Tugs is a part of Irish Mainport Holdings and was formed in 1995 to provide towage services at ports in Ireland and around the Irish coast. Its current fleet is worthy of mention when viewed alongside the latest addition which is a product of Eregli Shipyard, an independent yard based on the Turkish Black Sea coast.
Celtic Tugs' three existing tugs are Celtic Rebel, Celtic Isle and Celtic Banner. All three are products of Japanese yards: Daiko Dockyard, Imamura Shipbuilding and Hikari Kogyo respectively. Again respectively, each vessel's year of build and horsepower are: 1984, 3,500bhp; 1986, 4,000bhp; and 1982, 3,400bhp. Celtic Banner has recently been reported as sold.
Back to the main star of the story however, the new addition to the family recently arrived at Ringaskiddy Deepwater Berth in the Port of Cork as deck cargo on board a heavylift vessel. Initially, the tug carried the name Efesan Port under the Turkish flag and once re-registered under the Irish flag received its new name Celtic Fergus.
Celtic Fergus was built by Eregli Shipyard under the name Eregli 47 (denoting the yard number) and is a design from the drawing board of Robert Allan Ltd in Canada. It has a LOA of 25m, beam 12m and a depth of 4.6m. Main machinery comprises two Caterpillar 3512 high-speed engines driving Schottel SRP 1012FP thrusters providing a bollard pull of 45 tonnes. The tug has fire-fighting capability and a frequency-controlled electric towing and anchor winch is mounted forward. It is also fitted with towing winches aft along with a rescue boat equipping it for long-distance towing operations if required. Accommodation is provided for up to six persons when required.
By Peter Barker