German Customs authorities have launched the second of a new series of 22 knot patrol boats reports Tom Todd.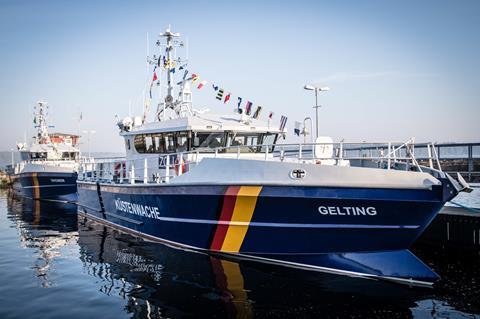 The 24m long and 6.49m wide Gelting was named and launched in Flensburg, on the German border with Denmark. It will see service in the Bay of the same name and along the German Baltic coast as well as in the Baltic Sea itself. It carries a stern-stowed tender called Angeln for shallow waters and yacht harbour inspections.
Gelting took a year and a half to build at Baltic Workboats in Estonia, which won the work in a Europe-wide invitation to tender.
Spokesman Andre Lenz at regional Customs headquarters in Kiel told Maritime Journal the newbuilding is part of an order for three boats of the same type, each costing about €4 million.
The first, Bremen, was named and went into North Sea service out of Bremerhaven in March this year along with its on-board tender Geeste. Lenz said the third and final newbuild in the series, Darss, is scheduled to be handed over and enter service later this year out of Rostock/ Warnemuende, further east on the German Baltic.
Lenz said the newbuild's propulsion system consists of two modern MTU Series 2000 engines each of 978hp providing up to 22 knots. He added that as well as "significantly improved waste gas emissions" – the result of being fitted with a soot particle filter - Gelting also had "significantly better" sea-holding than previous boats.
At the naming of Gelting, German Finance Ministry State Secretary Rolf Bösinger said a lot was being invested currently in German Customs and that the three new boats would add lasting strength to sea-going operations. Others said the newbuilds would make Customs work at sea easier and more efficient.
The Berlin Bundestag (Parliament) opened the way for the new boats in 2014 when it allocated an initial €13.5 million to replace three obsolete 17m boats. It earmarked a further €6.5 million for modern special unit equipment to combat crime and terrorism at sea.
German Customs have a fleet of 32 vessels and patrol about 3,660kms of German North Sea and Baltic coastline where about 400,000 ship movements are recorded every year.