Caterpillar has added to its range of marine diesel engines with a new unit that is available with a power output of up to 641 hp. A unique feature of this engine is that, according to Caterpillar, it is one of the first to be fitted with an electrically driven supercharger which can operate at a speed that is independent from the engine speed.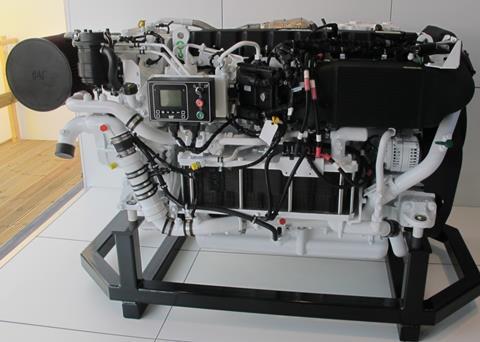 This allows the forced induction to be significantly increased at lower rpm which can be a major benefit to assist planing craft to get onto the plane quickly and easily.
The base engine is a 6 cylinder four stroke diesel with an 8.7 litre displacement. It features the latest developments including a common rail fuel system and full electronic control. The supercharger itself is electronically controlled and it comes into play once the throttle is opened to improve low speed response and then switches off once the conventional turbocharger starts producing boost at higher engine speeds.
Caterpillar is claiming a fuel consumption of 125 litres per hour at the full speed of 2300 rpm but this reduces significantly at lower engine speeds. The 2300 rpm speed is offered for applications where full speed is used for just ½ hour out of 6 hours and they suggest this could make it suitable for applications such as harbour patrol craft and some fishing and patrol boats. The engine meets EU Stage III and IMO II emission standards.
By Dag Pike