After leading the ''Daniel Adamson'' restoration project for 16 years, the man who saved the 1903-built steam tug-tender from the breaker's torch for £1 has stepped down as chairman.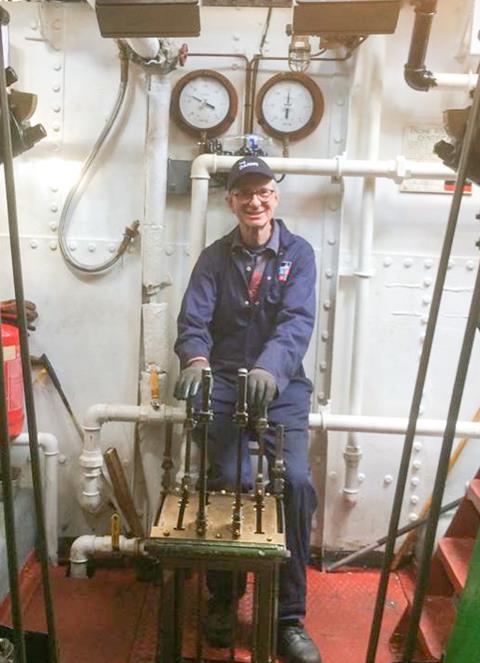 Following a multi-million-pound restoration project, Daniel Adamson now sails on the River Weaver in Cheshire as a leisure passenger vessel offering trips as well as private charter opportunities.
The story of how Daniel Adamson was saved and restored to its former glory is a tribute to the hard work and commitment of a group of volunteers but it was Captain Dan Cross, a Liverpool-based tug master who in 2004 brought the vessel for £1 just days before its impending demolition.
Dan formed the Daniel Adamson Preservation Society and together with support from among others the Heritage Lottery Fund and his employer Svitzer Marine who offered to dry dock and survey the tug for free, not to mention of course the small army of volunteers, embarked on the 12 year restoration project.
Dan has now stepped down as chairman following an exhaustive 15 years as vice-chairman until 2009 when he took over as chairman. He has been replaced as chair of the board of trustees by Keith Levin, a retired solicitor and immigration judge. Keith was born in Liverpool and following retirement in 2015 began volunteering on Daniel Adamson, joining the board of trustees a year later.
Dan was awarded the prestigious "Preservationist of the Year" award by HRH Prince Michael of Kent of behalf of the Transport Trust in 2017 and the "Flagship if the Year" award by HRH The Princess Royal on behalf of National Historic Ships UK.
Dan Cross commented: "This has been the most challenging project I am ever likely to be involved with and circumstance meant I was committed to this old lady at day one. It's been a massive privilege to work with some fantastic people over the years, their support and assistance and indeed friendship has been priceless and I thank everyone for making this one of the best examples of a team effort that never gave up".
Several pages could be filled recounting Daniel Adamson's fascinating history both before its scheduled demise and its new lease of life since thanks to the society and the story can be read at www.thedanny.co.uk