A new cruise terminal at the Greek port of Piraeus has been officially opened adding to the array of cruise terminals in this busy port.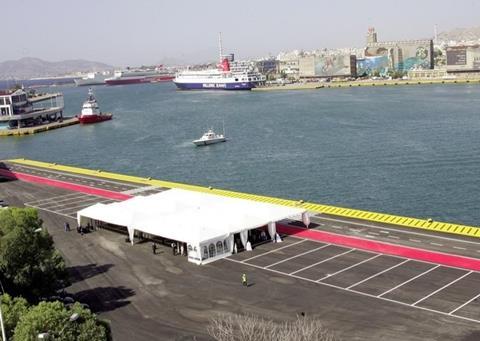 With the addition of Pier Saint Nikolaos, Piraeus can now accommodate up to 10 cruise ships at any one time, making it one of the premier cruise destinations in the Mediterranean.
This new cruise terminal is the first tangible evidence of development in the port since China's port operator Cosco Group (Hong Kong) Limited has officially acquired a 51% stake in the Piraeus Port Authority following prolonged talks. The stake was bought for €280.5 million The company also has an option to acquire a further 16% share in the port over a period of five years, for €88 million.
The new cruise terminal was built using concrete caissons to create the water frontage and it provides an additional 284 meters of berthing space for cruise ships with a draught of up to 11 metres. The adjacent land area which has been created occupies 8,415 square metres and at present this is equipped with portable buildings that have been established to handle passenger arrivals and departures.
This cruise terminal project was completed by Taiped (Hellenic Republic Asset Development Fund) in cooperation with Naftiliaki Technodomiki. Taiped is the government body that was responsible for the port assets prior to the take over by Cosco and they handled the funding for the project whilst Naftiliaki Technodomiki is a shipping agency company that deals with cruise ships.
Under the new concession agreement with the Greek State with Cosco holding the majority share in the Piraeus Port there are plans for further investment in the port. It has been announced that the port authority plans to implement a number of large investment projects aimed at making Piraeus the top Mediterranean cruise port.
After it signed the agreement with Taiped for the transfer of the majority stake in the Piraeus Port Authority in April, Cosco Group (Hong Kong) Limited received approval for the new concession agreement in mid-June. The deal included the investment of €350 million in the port over a period of ten years. However, it has since been announced by the company's president Xu Lirong that China Cosco could invest up to €500 million in the port over the period of five years. This investment would be used to update the cruise and shipbuilding industry and develop the port's facilities and services.
The privatization of Piraeus Port is one of key conditions of the country's bailout plan with the EU lenders.
By Dag Pike