Fischer Panda UK's display trailer at Seawork 2021 will feature its new range of large variable speed DC VS generators.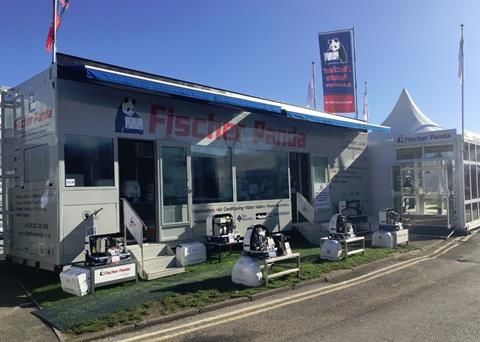 Meeting growing demand from commercial operators and OEMs for more efficient and smarter hybrid systems for retro-fitting or newly-built vessels to support the move to electric power, the new VS units reduce noise and fuel consumption by regulating the generator speed in accordance with the required power.
Fischer Panda UK's variable speed VS generators are available with an output power of 20kW up to 100kW and can be used for silent electric propulsion powered from the battery bank alone or hybrid propulsion using the batteries and the variable speed DC generator as a range extender. In emergency mode, the variable speed hybrid DC generator can power the drive system directly. Silent on-board power with battery only can be supplied indirectly using an inverter, or operators can opt for hybrid on-board power using the battery and generator during periods of high-power demand.
Offering advanced monitoring capabilities for the VS Series, the new FP Control system allows various set-ups as well as the connection to a CAN BUS system.
The VS Series gensets, including the 20-VS, 35-VS, 50-VS, 75-VS and 100-VS models, are compact in size and low in weight for easy installation and are all supplied with the Fischer Panda super silent sound insulation capsule.
DESALINATION EXPERTISE
Complete system specialist Fischer Panda UK is also highlighting its rugged commercial standard desalination systems. The Verwood company is the exclusive UK distributor for the Village Marine line, developed for 24/7 consumption, high levels of user operation and easy installation.
The range includes the Village Marine LTM series, producing up to 1800 gallons of fresh water per day, the heavy-duty LT system range, with a maximum production of up to 7000 gallons per day, the Village Marine PW system for up to 2000 gallons and the Stowaway range, with a production capacity of between 400 and 800 gallons per day.
Fischer Panda UK also offers durable air-conditioning and integrated mobile power solutions, all suitable for ROVs, disaster relief, offshore, workboat, fishing, tugs, military and light commercial vessels.
Visit Fischer Panda at Seawork 2021 on stand Q2