Extensive cruise ship building work for four big German shipyards in the new Lloyd Werft Group has reversed dismal order prospects on the Baltic and breathed some new life into German shipbuilding and the job situation.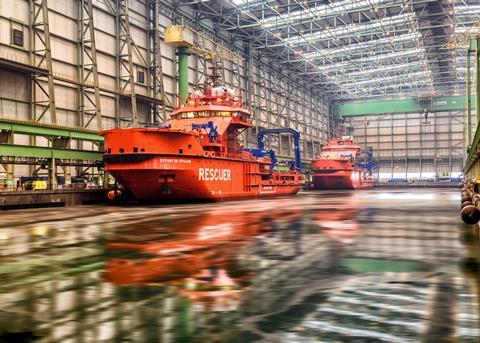 Orders placed by Genting Hong Kong, which has created the new group, "will help support the German and European shipbuilding industrial sector and employment during the current shipbuilding downturn", said Lloyd Werft Managing Director Rüdiger Pallentin.
The newbuilding is being spread evenly around the new group's yards – Lloyd Werft in Bremerhaven on the North Sea and Nordic Yards' three big facilities to the east in Wismar, Stralsund and Warnemünde on the Baltic.
The work will ensure the survival of former Russian owned Nordic Yards and help secure threatened jobs. Last September Nordic MD Herbert Aly reported a market downturn and said Nordic needed to "restructure radically up to 2020 ... and shed jobs if it is to be viable in the future". In March, Aly was able to report that Genting had pledged to keep all 1400 jobs in Nordic's three locations and that all of the yard's contractual building obligations would also be met.
Genting has said that at least ten cruise ship newbuildings are planned over the coming decade. After closing the Nordic purchase deal in late April Genting CEO Tan Sri Lim Kok Thay said that, to begin with, four Crystal river cruise ships will be built for expected delivery in 2017 and that the first purpose-built Polar class expedition mega cruiser, the 25,000gt Crystal Endeavor, will be handed over in 2018. Steel cutting for the first of the river cruisers was taking place at Lloyd Werft in May.
"Our goal is to grow yard output to two mega cruise ships and one mid-sized cruise ship or mega yacht per year within a decade, not only for our own fleet but also for other cruise lines and yacht owners", the Genting CEO added.
It was not immediately known if Nordic would continue to handle repair and maintenance work. New partner Lloyd Werft, however, will.
Rüdiger Pallentin said it would continue to handle conversions, dockings and repairs on passenger ships and ferries and would "acquire orders independently on the international market". The 32,289gt Ro-Ro ferry Primula Seaways is being lengthened in July and Lloyd Werft revealed options to lengthen two more ferries and said "further projects for European ship owners are in hand".
Pallentin also said that where possible the yard would continue to co-operate with neighbouring German Dry Docks, its partner in the former Petram shipyard alliance.
Bremerhaven authorities are spending €32.7 million on upgrading a 440m newbuilding and repair quay in the Kaiserhafen to support Lloyd Werft's new work load.
By Tom Todd