A new distribution deal has been signed in response to rising demand for Drops prevention solutions from the European offshore wind market.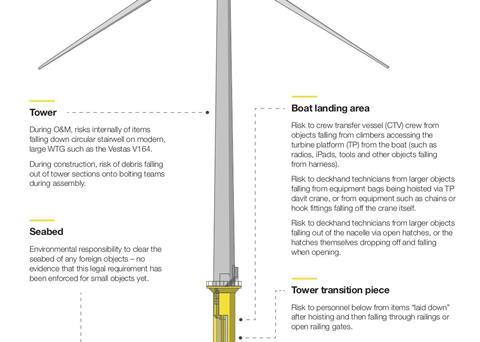 Dropsafe has signed a European distribution deal with Van Dam Maintenance & Repair. This partnership will bring greater access to Dropsafe's innovative products to a wide range of industries throughout continental Europe, including offshore wind, power generation and marine. Users of Dropsafe's corrosion resistant polymer Barrier system and advanced steel mesh nets and pouches will benefit from increased technical support and reduced delivery times.
Mike Rice, commercial director at Dropsafe, said: "Our partnership with Van Dam Maintenance & Repair will ensure our European distribution and support network can meet growing demand from wind farm owner operators – so that advanced Drops prevention solutions are easily accessible across the continent."
Increased risk
As the offshore wind industry continues to expand in Europe, the risk of serious Drops incidents increases with it. Drops incidents present a fourfold risk, to personnel safety, asset integrity, financial performance and company reputation.
Knowledge transfer between offshore energy industries is vital to ensure consistent implementation of drops best practice, said Dropsafe.
The deal with Van Dam Maintenance & Repair is the second European distribution agreement to be announced by Dropsafe in recent weeks, following its deal with MSS in Norway. Combined with Dropsafe's long standing partnership with Midcontinent in Aberdeen, Dropsafe said it is now well-placed to serve businesses in the United Kingdom, Scandinavia and across continental Europe.
By Rebecca Jeffrey