Marine HVAC specialist Dometic will continue its strong association with Seawork International when it returns as an official sponsor and to present its new brand positioning for the first time at the show.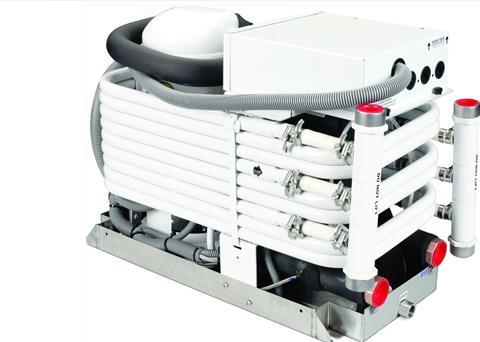 Renowned for its innovations in the HVAC industry and for its engineering capabilities to customise equipment for a wide range of commercial applications, Dometic will introduce its new unified look and branding at the 2017 event to showcase the latest chiller and air conditioning technology, and other commercial and workboat specific equipment.
The rebranding has been created to provide one distinctive, common corporate brand that clearly represents the consistently high standard of reliability, design and functionality across Dometic's product portfolio. Its sub-brands, including Cruisair, Marine Air, SeaLand and WAECO, will now be offered by Dometic, harmonising the company's product range into one overarching, globally-recognised brand.
Incorporating revolutionary design features for increased durability and efficiency, Dometic will be showing its Titan Chiller with titanium tube condenser and its VARC48 and 72 chiller models. The Dometic Titan features condenser coils made of industrial-grade titanium which makes the units virtually immune to erosion and corrosion. The VARC unit offers innovative chiller efficiency as the first chiller of its kind to adjust capacity output based on the current load demand, reducing energy consumption and harsh in-rush currents to the boat's generator.
The Dometic stand will also feature its DuraSea range of air-cooled units which are designed for exterior installation and engineered for exceptional resistance against salt water intrusion and corresponding corrosion experienced in harsh marine environments, as well as its multi-stage chilled-water air conditioning systems for larger vessels.
Additional products include the high capacity Dometic Sea Xchange SX Watermaker, which uses reverse-osmosis technology to turn seawater into potable water, and the award winning Dometic CRX 3-in-1 built-in fridge/freezer.
Dometic's Steve Morris, Director of Marine Sales and Engineering - EMEA, said: "2017 is an exciting year for the company as we introduce our new global, single brand to customers and partners. It is therefore especially important for the company to maintain its high profile at this key show as we promote our company and products, secure international sales leads, share the latest product developments with boatbuilders and manufacturers, and connect with current and potential customers."
Visit Dometic at Seawork International 2017 on stand PG131.
By Jake Frith