Sole Diesel SA has launched its latest marine diesel engines, the SM-82 and SM-94.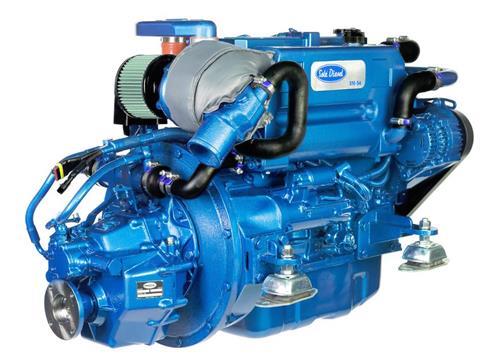 The SM-94 was shown for the first time at Seawork on the Engines Plus stand, the UK distributor.
Both the SM-82 and SM-94 are based on the 3.3 litre Mitsubishi marine engine and says Hedley Beavis Engines Plus sales director, feature a step forward in appearance and technical features to increase power and efficiency of the engine.
The new SM-82, gives 82bhp @ 2500rpm and the SM-94 gives 94bhp @ 2500rpm.
Both feature the new PRM 280 marine gearbox, which can specified with a live PTO clutch drive.
"The new SM-82 and SM-94 shows Sole's continued development of its products," said Mr Beavis.
"The company has been out of the 80hp market for a while and this new replacement engine brings us firmly back into it.
"In recent years Sole has been concentrating on the genset market and is now moving back to developing its engines."
He added: "The turbocharged, mechanical fuel injection system ensures the latest emissions legislation is met, but with the simplicity of a mechanical engine.
"People are accepting they have to go turbocharged but they still don't want electric."
The new engine features a compact and smaller water cooling system, new anti-vibration mounts, air filter, cover for the relays, V-belt protection guard and better dipstick position.
There are also new control panels.
The engines are emission compliant with RCDII.