The 35.4m firefighting duo 'Dresden' and 'Prag', Hamburg's first-ever plug-in hybrid workboats – have been delivered reports Tom Todd.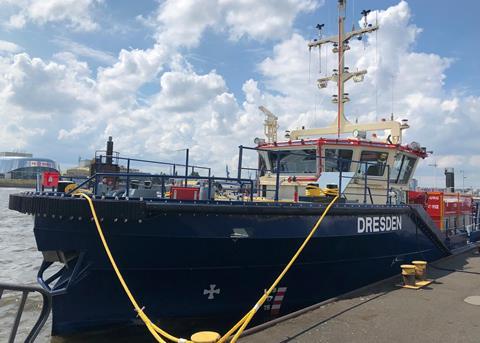 The hulls of the two new boats were built at Damen's Kozle, Poland facility. Superstructures and electrical systems were added at the parent company in the Netherlands.
Costing some €19 million, the sister newbuilds are specifically designed to complement the impressive 43.5m German-built fire-fighting ship Branddirektor Westphal and secure port areas and structures which the big ship cannot access.
The bigger boat coat costing €18 million - nearly as much as the two smaller newbuilds put together – and was billed on entering service in late 2018 as the most powerful firefighting vessel in Europe. Working for the HPA and the local fire services it was built to cope with multi-storey modern container ships at some of Germany's biggest container terminals.
Branddirektor Westphal's water and foam cannon systems project 120,000 litres a minute to a height of 110m over 180m. Dresden and Prag are much less powerful with water cannon capacity of just 30,000 litres a minute over 110m. But their smaller size means they can be used not just for fire-fighting but also to tackle other jobs like bridge inspection and maintenance, water supply, rescue and recovery, technical assistance and environmental protection.
The HPA said the newbuilds were being used for trial operation and crew training prior to entering regular service at the end of the year. Dresden will go into full-time charter with the Fire Service while Prag will see multi-functional service with the HPA, Fire Service and other clients.
The new 7.8m wide boats, drawing max.1.8m, impress with their plug-in hybrid propulsion systems using Diesels with catalytic converters and particle filters or full battery drive with batteries charging from the Diesels or from land-based power units and providing 12 knots. They each have two main Caterillar C18 gensets and a C9.3Caterpillar genset. Each also has two Schottel SCD 150 380kW rudder propellers and an STT 60 FP 100kW transverse bow thruster. The plug in drive battery systems are from EST-Floattech and auxiliary systems include a Caterpillar C32 firefighting set, a HEILA HLRM 16 3S deck crane and hydraulically controlled diving and working platforms.