The new diesel engine series from Yanmar could have many workboat applications and with one engine in this series offered with a sail-drive propulsion system this could be a unique application for small ferries and other craft where high manoeuvrability is required.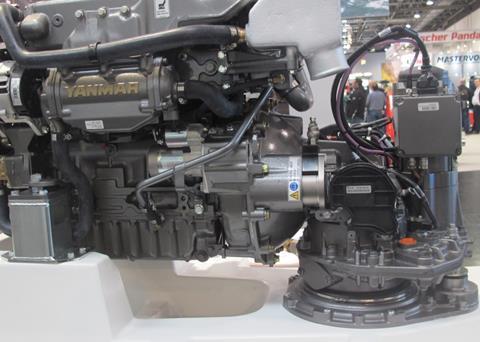 The new JH-CR range of diesel engines comes in two closely related sizes of engine and covers a range of power outputs. The larger engine is the 2.19 litre unit which is a four cylinder engine with a bore of 88 mm. The smaller engine is based on the same block but this one has a bore of 84 mm to give an engine capacity of 2 litres. The four engines are based on these units with various stages of tuning with the higher power outputs coming from the smaller engine which operates at 3200 rpm compared with the 3000 rpm of the larger engine.
This larger engine comes in versions rated at 45 and 57 hp and this more rugged version is perhaps applicable to workboat applications. The higher tuned engines produce 80 and 110 hp based on the smaller engine block could be applicable to installation on RIBs and other small fast craft.
These are full electronic common rail engines that are claimed to offer smooth and silent performance with good fuel consumption. The electronic engine monitoring can be configured for viewing through modern chart plotter displays. All of the engines meet the requirements of the EPA Tier 3 and the EU RCD Tier 2 emission regulations.
The sail-drive propulsion unit is designed for compatibility to the 4JH80 engine which is the one producing 80 hp. This drive unit can be rotated through a full 360° to give exceptional manoeuvrability particularly if two or more drive units are fitted to a craft. The sail-drive can be controlled through a joystick that can control both the speed and direction of the thrust.
The power and speed of this new range of diesel engines is specified for leisure applications where limited operation times are common. Where installations are made in workboats where the operating conditions can be more demanding and more continuous then both the power output and the operating speed would be reduced but the quoted power outputs are also rated for light commercial applications.
Yanmar has been producing diesel engines for over 100 years and offers one of the widest ranges of diesel engines for every workboat application. The move into propulsion systems started with a stern dive unit which has now become a unit with contra-rotating propellers. Up till recently the sail- drive engines have been fixed units but with the introduction of the steerable propulsion pod this drive unit adds a whole new dimension to boat control that could find many applications in the workboat sector.
Visit Yanmar's UK distributor, E.P.Barrus, and see the new range at Seawork International 2017 on stand Q17.
By Dag Pike