German sea rescuers have taken into service a second special 8.9m independent response boat, reports Tom Todd.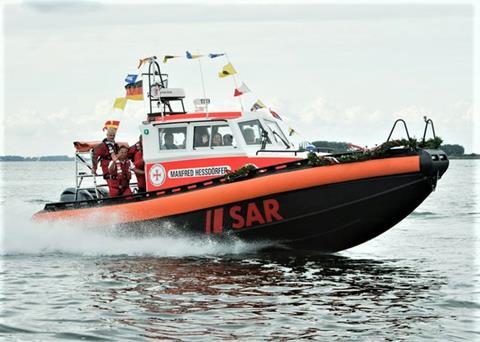 The 38knot Manfred Hessdörfer, along with Hellmut Manthey which entered service in 2018, are the fastest boats in a fleet of about 60 serving with the German sea rescue service DGzRS. They are designed for independent operation. Manfred Hessdörfer is now serving out of Breege on the eastern German Baltic island of Rügen while Hellmut Manthey serves in Maasholm near Flensburg at the other end of the Baltic. They are among 55 rescue stations maintained by the DGzRS with180 employees and about 800 volunteers along Germany's more than 2,300 kms long North Sea and Baltic coast line.
Manfred Hessdörfer was built by the specialist shipyard Arctic Airboats in Finland and is a rigid buoyancy boat (RBB) built entirely of high molecular weight polyethylene. Its high-speed maneuverability is comparable with RHIBs, the DGzRS said, the difference being that the new RBB gets its propulsive buoyancy from its rigid, light hull alone and not from tubular construction.
In addition, the RBB is a lot more robust, easy to handle, roomier with a cabin and semi enclosed bridge and can be serviced without the need for a specialist yard. The DGzRS also said "maneouverability, towing characteristics and stability are all extraordinarily good while drag and wave action are minimal".
Manfred Hessdörfer is 3.1m wide, displaces 3.2t and draws 0.88m – 0.65m when its two Yamaha FL200G and F200G outboard motors, each of 200hp, are trimmed up during operation in shallow seas.
Identical prototype Hellmut Manthey, also built and developed by Arctic Airboats in co-operation with the DGzRS, entered service in 2018. DGzRS spokesman Christian Stipeldey told Maritime Journal the story might not end there. "The two boats might be joined by further sisters with time", he told this correspondent "but no decision has been made as yet".
As well as building and helping to develop the new type 8.9m RBBs, Arctic Airboats have also been involved in building the onboard workboats carried by the DGzRS 20m class of cruisers. Six of those 19.9m fast cruisers are listed, each with 4.80/4.85m long and 2.0/2.05m wide work boats drawing just 0.40m.