Germany's Maritime Search and Rescue Service, the DGzRS, is going through a busy fleet replacement phase with five new boats being built at the same time - and at the same shipyard - for service from late this year.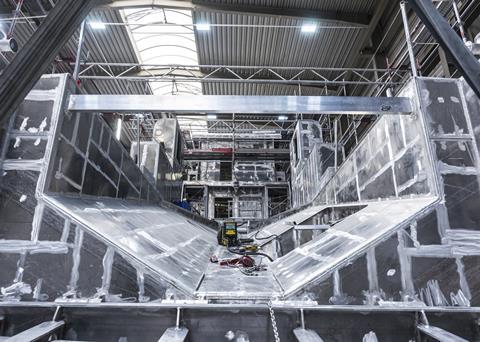 All the boats are being built at small ship specialist Fassmer Werft in Berne, north Germany, and all are new types in one way or another. Two are the second and third boats in a series of three completely new 28m Class rescue cruisers and the others are a modified trio of 10.1m Class boats with new engines.
The first of the new 28m Class cruisers, Ernst Meier-Hedde, was delivered by Fassmer last year and is stationed on Amrum. The second is for delivery at the end of this year for service in the Kiel Fiord. It will carry the name Berlin and replaces a namesake from 1985. The third as-yet-unnamed cruiser, SK 37, is due for handover next May for service out of Cuxhaven where it replaces another 1985 boat, Hermann Helms. SK 37 will see service in the Elbe Estuary, one of the busiest sea shipping areas in the world.
The new boats are each driven by two 16 cylinder MTU 2000 M72 engines of 1,440 kW and equipped with a new system which ensures running even in extreme weather conditions and during severe tilting. Of the proven aluminium, self-righting network frame design, they are 27.9m long with a beam of 6.20m, draw 1.95m and have a speed of 24 knots.
Described as the most advanced boats in the DGzRS fleet, and more powerful, the new boats will replace six much-respected 27.5m boats for service out of bases along the German North Sea and Baltic coastlines.
The keel of the first of the new 10.1m Class rescue boats under build at Fassmer was laid in May and all three will enter service next year.
The new series boats are listed as 9.4 or 10.1m long, 3.6m wide and draw 0.96m. They are modified versions of the 9.5-10.1m Class Henrich Wuppesahl completed last year by east Germany's Tamsen Maritim Shipyard.
They are modelled on proven workboats of that size from different shipyards of which about 20 are still in service today. Tagged SRB66, SRB67 and SRB68 until naming at launch, the new boats will replace three of the 8.5m Class boats in service since the 1990s.
In comments made to Maritime Journal, Ralf Baur at the DGzRS in Bremen re-confirmed an engine switch on the latest boats. He said that like Henrich Wuppesahl, SRB 66 was getting a Cummins QSB 6.7 engine with increased performance of 380 hp. The earlier boats carried Cummins 6 BTA 5.9 M engines and 320 hp.
By Tom Todd