The keels have been laid in Holland on two modern, multi-role fire-fighting ships for service in Germany's biggest and busiest universal port, reports Tom Todd.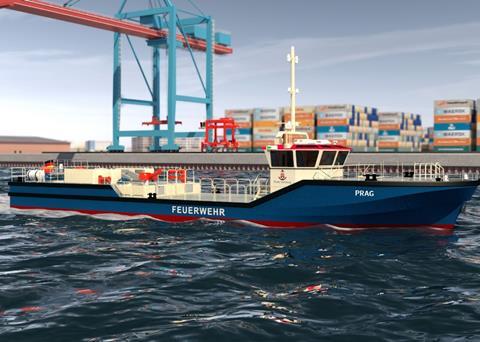 Following the keel-laying at Damen Shipyard, the 35m x 8m plug-in hybrids, already named Dresden and Prag, are being completed for delivery towards the end of the year to Flotte Hamburg. That firm, a 100% subsidiary of the Hamburg Port Authority (HPA), makes available a flexible fleet of about 50 specialist ships and workboats as well as 40 barges in and round the port.
The new ships, together costing €19.5 million, will see service from 2021. One will go into full charter with the Hamburg Fire Service and the second will undertake a range of jobs, including bridge inspection and maintenance with the HPA. That ship will however also remain available at short notice for Fire Service use in the event of major incidents. It will also carry its own fire-fighting equipment in containers to enable independent fast deployment.
The newbuilds have plug-in hybrid propulsion using Diesels with catalytic converters and particle filters or full battery drive with batteries charging from the Diesels or from land-based power units and providing 12 knots. .
Flotte Hamburg MD Karsten Schönewald said of the newbuilds : "their propulsion technology represents the next step for us in the evolution of an environmentally-friendly fleet".
Engines and equipment manufacturers have not been identified but Dresden and Prag have been planned by the same team which produced the 43.5m, €18 million fire-fighting ship Branddirektor Westphal for Hamburg last year after completion by Fassmer.
That ship, billed as the most modern and powerful of its kind in Europe, is powered by Caterpillar C18 main engines and has Schottel SRP190 rudder propellers. Damen itself offers a 23.9m fire-fighting vessel driven by Cat C12 and Cat 18 main engines and Ultrajet 410 and 451 waterjets.
Dresden and Prag draw 1.5m and will have room for 16 fire-fighting personnel. They will have a water cannon capacity of 30,000 litres a minute over 110m which makes them much less powerful than Branddirektor Westphal but more capable than earlier 20m boats. And HPA notes that because of their smaller size they can operate in parts of Hamburg which the bigger ship cannot reach.