A single leaf bascule bridge and marina lock gates have been delivered as part of the ongoing transformation for Port of Dover''s flagship Dover Western Docks Revival (DWDR) development.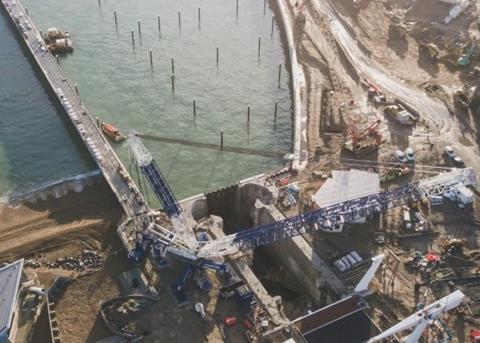 The bridge, designed and manufactured by Qualter Hall has been installed by the company on behalf of VSBW - a joint venture comprising VolkerStevin and Boskalis Westminster – which are responsible for the marine and bridge civils contract for the DWDR development.
George Orton, Managing Director for Qualter Hall, which has carried out major works at Dover before, said: "Recently this included all the mechanical, hydraulic and electrical control equipment for the refurbishment of RoRo berths 2, 3 and 7 at Dover's Eastern Docks."
Heavyweight deck
The bascule bridge will span the new navigation channel connecting the existing Wellington Dock with the new marina that is being built in in the outer harbour.
Its 16m long deck weights 96t and has a mast height of 16m. It is lifted using hydraulic cylinders, attached to the pivoting frame.
The deck was brought in by a sea-going barge from the fabricator, Victor Buyck, Belgium, and lifted into place by a substantial 1250t land-based crane.
In addition to the bascule bridge, two sector lock gates, each 12m high and weighing 50t, and two mitre lock gates, each 6m high and 5.5m wide, are being installed to provide 24hr access for marine craft into the Wellington Dock Navigation Channel, and to provide flood protection during extreme high tide and storm surge conditions.
By Rebecca Jeffrey