Anders Invest, the Netherlands based investment company that focuses on partnering with tech orientated Dutch SMEs, has acquired a minority stake in ROHR-IDRECO Dredging Systems.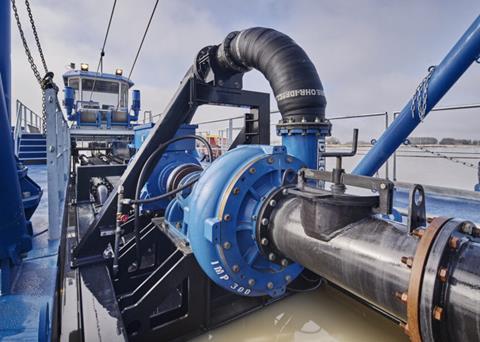 Anders Invest provides financing for both minority and majority interests and has investments in 23 profitable and expanding businesses.
Active since 1960, ROHR IDRECO specialises in the design, engineering and production of wet mining and dredging systems. Its fully electric vessels include suction dredgers, bucket ladder dredgers and clamshell vessels, with maximum working depths of up to 180m. The company also offers a line of pumps developed in-house and suitable for applications both inside and outside the dredging industry.
The systems can be fully automated or operated remotely and are deployed worldwide on a variety of applications, including sand and gravel extraction and dredging of hydrodam water reservoirs. ROHR-IDRECO employs some 80 people and has manufacturing sites at Doetrinchem in the Netherlands and Mannheim, Germany. There are sales and service locations in France and the USA.
In 2019, Fulco Vrooland Lob (CEO), Meindert Lodewijks (CFO) and two external shareholders acquired the company. Anders Invest will acquire its minority stake from the two external shareholders.
Lob commented: "Anders Invest's focus on sustainable value development based on fair and transparent business is in line with our mission and vision. With this powerful new shareholder on board, we want to give further impetus to our growth ambitions."
Anders Invest's managing partner Gert-Jan Huisman added: "Sand is, after water, the most traded commodity worldwide. With its progressive and zero-emission extraction systems, ROHR-IDRECO is a wonderful asset to our Industry Fund. We look forward to actively assisting the company for the longer term, with knowledge and, where necessary, with capital."
Lob and Lodewijks continue to be closely involved in the company as directors and shareholders.
Earlier this year, ROHR-IDRECO gave Germany based SL Pumping Solutions sales rights to its proprietary iPump, ranging from 200mm to 1,100mm suction diameter, for applications in the power and gas, mineral and mining, tunnelling and special heavy construction industries.
The iPumps are wear resistant for an increased lifespan, have optimal suction characteristics, are energy efficient, and can be adapted to a wide range of tasks.
By Larz Bourne