The new €10 million Ostseekai Berth 28 cruise handling terminal in the German Baltic port of Kiel is ready for service - but when it will handle its first ship is now anybody's guess, reports Tom Todd.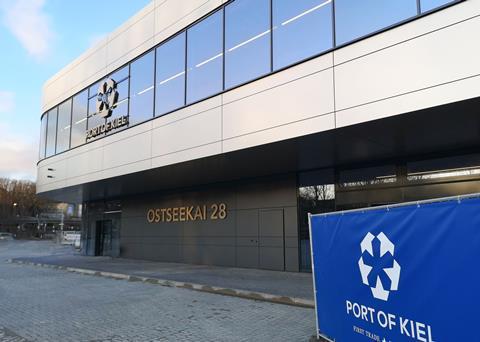 Terminal operators Port of Kiel reported the 14,500 sqm Berth 28 terminal site complete and "ready for operation" in early March. Its official inauguration had originally been planned for March 4th when Kiel's Chamber of Industry and Commerce (IHK) had been due to hold its annual reception at the Ostseekai at the same time.
The IHK however announced it was postponing the popular well-attended event indefinitely because of the Coronavirus outbreak and as a preventative measure.
The Port of Kiel followed suit, postponing the Ostseekai Berth 28 inauguration until April 26th and said the first ship handled there on that date would be the 55,877gt cruise ship Vasco da Gama, of Cruise and Maritime Voyages (CMV).
However, Port of Kiel spokesman Ulf Jahnke told Maritime Journal mid April that MVC had since cancelled all calls including Kiel until May 24th. Other major cruise operators like AIDA Cruises, Costa and MSC had also cancelled all scheduled calls until the end of May, he added. As a result, the start of Kiel's cruise season will be "later in the year" and "a new date for the opening of the new terminal will be announced at the appropriate time", Jahnke told Maritime Journal.
The Ostseekai Terminal is one of four cruise ship handling facilities in Kiel. The new Berth 28 passenger and baggage handling extension facility serves a 285m long berth on 9.5m of water and was originally due to have opened a year ago in time for the 2019 cruise season at an estimated cost of €7.5 million.
The new 3,700 m2 terminal building is a two-storey integrated northern extension of the existing terminal with connections on both levels. It is attached to the original Ostseekai facility opened in 2007 and located on the longer 355m Berth 27.The new facility however covers an operational area which – at 14,500 m2 - is almost twice as big as the Berth 27 terminal. It has a capacity of 4,500 passengers against 5,500 for Berth 27. Last year Kiel handled 803,000 cruise passengers.