New SATCOM-enabled marine lanterns have been released that are more efficient and last longer than previous versions.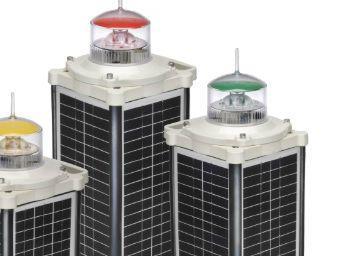 Sealite's new SL-C310 series, 3-5NM Solar Marine Lanterns are available in three chassis size configurations: compact, standard and extended. These models replace the SL-C310, 410 and 415 models.
They have a larger battery capacity and additional solar charging capability. The four premium-grade solar modules are integrated into the assembly and mounted to collect sunlight at all angles.
The SL-C310 series may also be fitted with the Satellite Communications Module or GSM Module – enabling users to access real-time diagnostic data and two-way monitoring and control through the Star2M portal.
The SL-C310 series is available with GPS Synchronisation as standard. Two or more lights can be synchronised to flash in unison via an internal GPS module.
SL-510-SA
Sealite has also released the SL-510-SA, the next product in the satellite-enabled SL-510 family. The high intensity 5-9NM lantern incorporates two-way global satellite technology, OLED display, Bluetooth connectivity and exclusive monitoring and control options via the Iridium satellite network.
The SL-510-SA is designed with enhanced LED optics and is a good option for customers who are specifying new AtoN systems, or as a replacement/upgrade for aging assets, said Sealite.
By Rebecca Jeffrey