Finland-based Alfons Håkans has taken delivery of two icebreaking Husky Class offshore tug/supply vessels giving a new lease of life for a class of tug currently facing uncertain futures in the oil industry.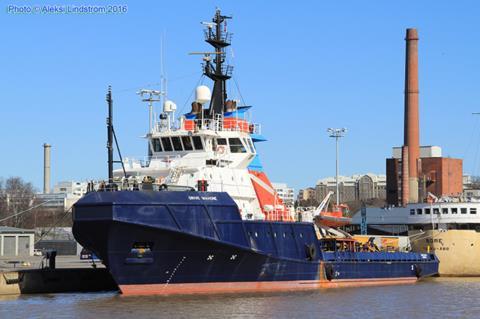 Vessels operating in the offshore oil and gas industry are usually outside the area of coverage of this column but occasionally stories surface which are of interest generally to the world of towing and for this Finnish towage service provider with a fleet of over 50 vessels including small workboats, flat top barges and tugs is certainly news worthy of mention.
The two acquisitions, Thetis and Hermes have interesting histories setting them apart from other standard oil industry tug/supply vessels which given their age, may be facing uncertain futures in increasingly competitive and shrinking markets with oversupply and low oil prices affecting the industry globally.
Thetis and Hermes, previously Storm Express and Drive Mahone respectively are two of six similar designs built in various shipyards in 1983. Some were built in Canada granting them 'grandfather rights' allowing them to return to work in Canada and one role they undertook while operating in Canadian waters was lassoing and towing large icebergs away from oil rigs in the area. Both have had a series of names in their history working for Husky Oil and Maersk Supplyships.
Håkans is planning potential multipurpose roles for its new vessels including addition of two-deck, 36-person accommodation modules, and thanks to the cargo tank capacities from their previous roles, potential as oil recovery vessels including the use of hot-taping tools in salvage operations.
Looking at the specifications, they are classed by Lloyds Register with notation including, 100A1 and Ice Class 1A Super. Basic dimensions are: LOA 71.5m, Breadth moulded 16m and draught maximum 6.25m. As can be expected the main machinery installation delivers a high power output from four MaK diesels producing 10,880bhp in total, driving two Kamewa controllable-pitch propellers turning in nozzles. Manoeuvrability is enhanced by two 800bhp thrusters forward and one aft. Performance figures include a bollard pull of 127 tons and maximum speed 15kn.
Powerful towing winches are also common in such vessels and Thetis and Hermes are equipped with triple-drum waterfall type Pacific Winches models. The two anchor-handling drums have a 275t pull and 450t static brake load, each with capacity for 600m of 76mm wire. The main towing drum has similar loads and capacity for 1,000m of 76mm wire. Additional towing/deck equipment includes: two 1,000m 76mm wire reels; four chain lockers; two Karm Fork and two Triplex shark jaws; a 4.5m by 2m stern roller and two 100t towing pins. Thetis has accommodation for 21 persons including crew while Hermes is able to fit one further person in with an additional single cabin.
By Peter Barker