Officials in Lithuania say the integrated engine, steering and propulsion system on their new €3.4 million patrol boat ''Aleksandras Barauskas'' provides both economical operation and excellent manoeverability in a range of duties including search and rescue.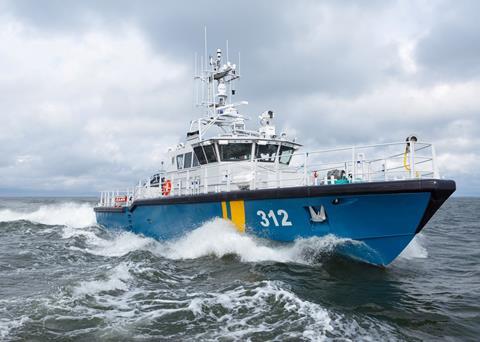 The 26.5m long and 6.2m wide newbuilding has just gone into multi-purpose Baltic service with the Lithuanian State Border Guard Service. It is the sixth Type 2403 patrol boat built by Baltic Workboats in Estonia.
Similar patrol boats from the same builder already serve with border control agencies in Estonia, Latvia, Poland and some other European countries. The Swedish Coast Guard has a fleet of five such vessels. The Lithuanians said the contract was won in open tender by Baltic Workboats and that EU funding had been obtained for 60% of the €3.4 million cost .
Baltic Workboats says Aleksandras Barauskas is designed to enforce state border control at sea and track, identify and carry out checks on vessels. Its major duties will be patrol, responding to violations and the pursuit and detention of offending vessels. However the boat can also be deployed for search and rescue, and to assist in security and the transport of special equipment and personnel during pollution relief operations.
To give the vessel the most efficient overall performance a Volvo Penta IPS 1050 complete propulsion system is installed. The system features triple D13-800 main engines with total power of 1764 kW and IPS 3 fully integrated pod units. The Lithuanian State Border Guard said "the integrated system of motors, steering gears and propulsion mechanisms will ensure economical operation and excellent maneuverability".
Up to 40 % lower fuel consumption over the whole speed range was is claimed and Baltic Workboats says that "creates great cost savings and reduced CO2 and NOx emissions". During sea trials the boat reached 34 knots fully loaded and acceleration time from idle to 20 knots was just 7.5 seconds. The Lithuanian State Border Guard spoke of a top speed of 31.5 knots.
Aleksandras Barauskas provides a 10-ton bollard pull capability and because of an ice strengthened hull is also capable of operation in up to 5cm of crushed ice.
The boat is equipped with full ECDIS with radar overlay and 27" LCD screens on workstations. All navigation equipment is doubled-up and fully integrated in Conning system. The alarm and monitoring, alarm acknowledgement and electrical system is handled through the IAMCS display and there is a FLIR camera system for patrol and rescue operations. Deck equipment includes a 5.5m RIB boat and crane. Class is Lloyds: X 100A1 SSC Patrol Mono HSC G3 MCH.
Accommodation is for five crew. Baltic Workboats arranged special training for ten border guards who form interchangeable crews on the new boat.
By Tom Todd