Austrian-owned crane and rescue boat specialist Palfinger has added a new RIB design to its extensive range which is aimed primarily at the military sector but which would be used in the role as a competent workboat.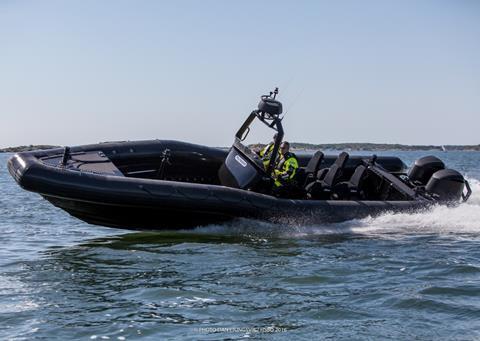 With a length of 11.4 metres the PB 1100 G is one of the largest open RIBs in the extensive Palfinger range. A unique feature of this new design is the stepped tube where the inflatable tube rises up in a significant bend towards the bow to give improved seaworthiness and a reduction in spray. Palfinger claims that this new design offers a high level of manoeuvrability, speed and load capacity and the variable deck layout allows the RIB to be adapted to a wide variety of roles.
This ability to adapt the RIB to varying roles extends to the way the RIB is fitted out. Palfinger can offer shock mitigation seating, large areas of open deck space for when cargoes have to be carried and a variable position for the control console. The beam is 3.0 metres and the weight when fitted with outboard propulsion is 3300kg ; a size and weight which allows the boat to be air-transportable, which would be mainly a military requirement.
In keeping with the flexibility of the design there are a number of propulsion options available. The standard units would be pair of 250hp outboards which would give a top speed of around 45 knots. For maximum performance an installation comprising triple 400hp outboards can be specified and then the top speed rises to an impressive 60 knots. For workboat operations the alternative installation of a pair of inboard diesels coupled to water jets might be the preferred option to offer both economy and long range.
Palfinger's speciality is cranes but they also offer a wide range of davits for boat launch and recovery operations. Both single and twin davit installations can be specified for the boats in the Palfinger range and Palfinger is unique amongst boat builders in offering boat launching and recovery system packages for boats up to 15 metres in length. These packages cover many of the requirements for operating daughter craft that are now found on many offshore operations and they can also design and specify stern launching ramps with a unique boat capture system.
The combination of boat and launching system packages greatly simplifies the job of the naval architect when designing the mother ship because the boat and davit package is sold as a compatible unit so that the main design requirement is to develop the space and installation platform. This same approach of a complete launch and recovery package is adopted with the stern ramp launching systems that can be engineered to specific operating requirements.
By Dag Pike