Work has begun on a new 113m quay wall to moor windfarm Service Operation Vessels in the Port of Tyne, UK.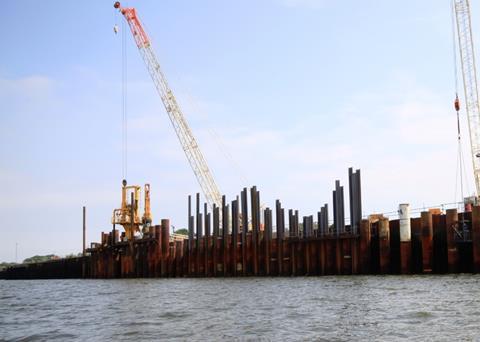 Southbay Civil Engineering Limited together with their appointed designer GHD, are currently responsible for the construction of the wall on behalf of the Port of Tyne. The new structure consists of a driven steel pile combi wall which is tied back to the land with heavy tie bars and anchor piles.
The project is being undertaken to enable the mooring of Service Operation Vessels, which will be used to support the operation of Dogger Bank Wind Farm, which once complete will be the largest offshore wind farm in the world. The Operations and Maintenance Base used to service the wind farm will be located within the Tyne Dock Enterprise Park which forms part of the Port of Tyne.
GROUNDWORKS
The new section of wall includes a combi wall which consists of 24 1067mm diameter and 15 1422mm diameter tubular piles. The combi wall will be connected to a new anchorage system located approximately 30m to the rear via a series of heavy tie bars. The anchorage system includes 12 1422mm diameter, and 16 914mm diameter tubular piles. Associated groundworks include the construction of an 18m wide concrete ground slab throughout the length of the quay, with a ground bearing capacity of 10t/m2. Once complete, the quay will include fenders, bollards, grab chains, safety ladders, life buoys and all necessary services to accommodate shipping.
VARIABLE BEDROCK
GHD have successfully developed the design in accordance with challenging ground conditions including those arising from unknown historic structures, with the existing site previously used for shipbuilding as well as offshore oil and gas module fabrication. As a result, the construction detail of the new quay wall, in particular, the anchorage system, varies across its length to take account of the existing infrastructure. Due to variability of sandstone bedrock levels, sections of the combi wall have been designed to include a selection of spigots to achieve the required pile depth for stability purposes.
Paul Stephenson, Managing Director, Southbay Civil Engineering Limited commented: "As a company we are immensely proud at being responsible for delivering a project that will contribute towards such a regionally significant development for the North East in the form of Dogger Bank Wind Farm. The project will allow us to demonstrate our full range of marine capabilities whilst highlighting our ability to develop innovative design solutions in accordance with challenging site conditions."
Steve Best, Engineering Manager, GHD said: "We were delighted to work with Southbay and the Port of Tyne to develop the design for this exciting and challenging project, and are pleased to be in a position to support the construction of infrastructure that will benefit renewable energy developments in the region. Our team's experience of working with Southbay and on complex maritime projects meant that we were able to overcome the significant project risks including those associated with existing structures. We hope the benefits associated with the new facility will form a significant part in the revitalisation of the North East and in a wider context, encourage a greener, more sustainable future in the local area and beyond."
Simon Brett, Commercial Director at Port of Tyne commented: "We're delighted the ground and quayside improvements at Tyne Dock Enterprise Park are well on track and the new quay wall represents our investment and commitment to the Dogger Bank project and our journey to supporting the World's largest offshore wind farm."
By Jake Frith