Gearbox specialists Rientjes will showcase its new product range of Down Angle gearbox series, WVSA, at SMM.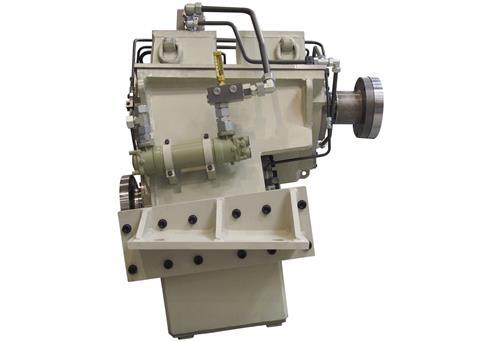 The Down Angle prototype completed its first test runs at the company's facilities at the end of 2015. All products were put through an intensive testing process, especially the conical spur gears, that generate a shaft angle of 8° to 10° between the input and output shaft.
With the Down Angle gear box installed, an engine room can be engineered in a space-saving design, meaning horizontal installation of the main engine while the propeller shaft is sloped downwards by the inclination angle inside the gearbox.
This leads to a shorter propeller shaft can be used which leads to a smaller engine room.
During the testing process, special attention was paid to the teeth design and contact pattern under load in order to reduce thenoise emission.
The Down Angle gearboxes' noise values were said to have reported positive feedback in the initial testing.
All new REI Rientjes NTJES Down Angle gearbox series comprises sizes WVSA 340, WVSA 740, and WVSA 1540 and is available at a power range from 250 to 3,250 kW and a reduction ratio of 1.5 to 4.
Other important features include the aluminium housing and the shaft angle of 8° to 10° that is essential for Down Angle gearboxes.
Visit Rientjes at SMM in Hamburg from 6-9 September on stand 207, hall A4.