A new range of catamaran CTVs aims to bring simple no nonsense vessels with varying duties, payloads and speeds to the market.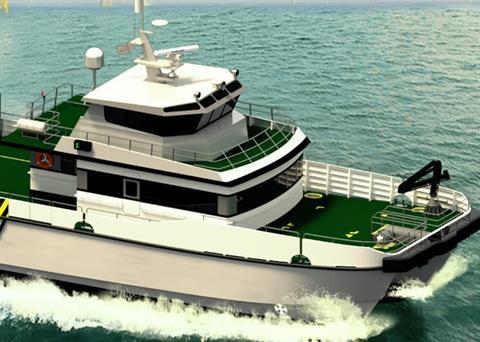 Ad Hoc Marine Designs Ltd's (AHMD) new South Class range of catamaran CTVs have been designed collaboratively with Due South Ltd, pulling together a decade of collective knowledge beginning with the original South Cats range designed and produced by South Boats (Isle of Wight) founder, Clive Jeffrey. AHMD worked very closely with the original South Boats on the Isle of Wight up until 2012, assisting Clive Jeffrey with the DNA naval architecture and structural design of the South Boats range of CTVs.
The 24m South Class is the first of these collaborations and is essentially a mk II modernised update of the hugely successful original South Boats range of CTVs. The South Class range is available in a range of lengths and workboat codes
"I've known John Kecsmar (naval architect, AHMD) since we first met in the late 80s at FBM Marine where we worked very closely together," Mr Jeffrey.
"We both had an eye for quality and innovation, the principles also at FBM. When I left FBM and formed South Boats, I kept in close contact with John where both he and Nigel Warren assisted me on the technical and structural design aspects of my growing brand of designs at South Boats."
"We have always remained close friends and it seemed only natural to join forces together again to continue the close working relationship to create the mk II South Class of CTVs at AHMD."
By Rebecca Jeffrey