German shipbroker, Hanseatic Break Bulk (HBB), along with its alliance partner, NEPA Shipping Amsterdam, have arranged the transport of 150 wind turbine blades from North China to the US west coast.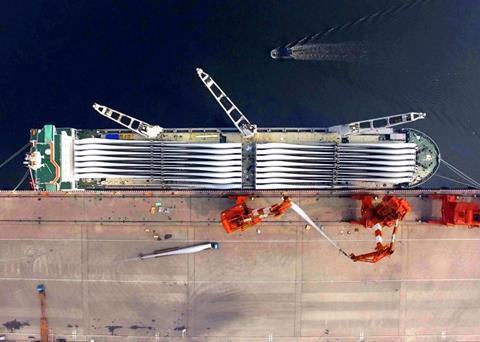 The 50m blades were transported onboard the 32,000dwt newbuild Chipolbrok Atlantic on the vessel's maiden voyage.
This sets a new record in terms of total quantity of blades shipped onboard a single vessel from any Chinese port.
A second vessel is contracted in September to move another batch of blades which are destined for two separate onshore windfarms currently under construction in North Dakota.
HBB was established in 2014. It specialises in international breakbulk, project and heavy lift transportation. But it also has an offshore services division that focuses solely on supply and logistics for offshore windfarm construction and pipelay supply.
The company partners with Symphony Shipping Breda to operate two DP2 propelled long haul offshore multipurpose supply vessels.
By Anne-Marie Causer