A new recovery and rescue system described by its makers as "revolutionary" has gone into service on the German Bight excursion ship ''Fair Lady'', reports Tom Todd.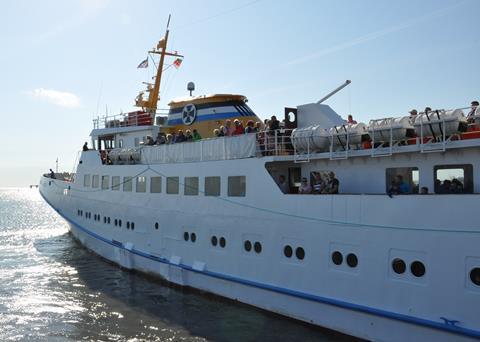 The 68.57m long and 10m wide ship can carry up to 799 passengers daily on the sometimes rough service between the German mainland and the island of Heligoland. It has just completed a yard overhaul which included the installation of the new Rescue Star system.
It is designed for the recovery of individuals or small groups in bad weather and heavy seas where the use of life boats could endanger the lives of others. RLS Rettungstechnologie in Hildesheim near Hanover, which markets the system, describes it as "new and revolutionary" and the German Transport Ministry commented: "The recovery device "Rescue Star" is a particularly well suited piece of equipment for recovery from sea as per regulation 17-1, chapter 3 of the SOLAS Convention".
Fair Lady operators Cassen Eils said it is "more effective and easier to handle by the crew in emergencies" than life boats. Cassen Eils, which is part of the AG Ems Group, also told Maritime Journal: "when rescue is undertaken using a boat, at least two crew members are required to put themselves into a dangerous situation. When Rescue Star is deployed, recovery is carried out directly from the mother ship (using a board crane) and is therefore safer and faster".
Fair Lady's two Deutz powered Hateke life boats and davits, which have until now been the accepted method of recovering individuals who go overboard, have been replaced with a single Rescue Star system. Weight has been saved and more space for passengers has also been created, Cassen Eils said. Of course the ship still carries life rafts – 18 for 50 people each - for use in the event of major ship evacuation.
Fair Lady was built in 1970 by the Mützelfeldtwerft in Cuxhaven which also carried out the latest yard overhaul and renovation. Cassen Eils spokeswoman Corina Habben told Maritime Journal that the ship's Type MWM TBD 441 V16 main engines, which produce 2206kW and provide 19 knots, underwent endoscopic inspection as part of a major GL classification renewal. During its yard stay, the ship was also fitted with new radar and bridge alarm systems.