At Dunmore East in the Republic of Ireland, the RNLI's all-weather Trent class lifeboat has a new berth from Inland and Coastal Marina Systems.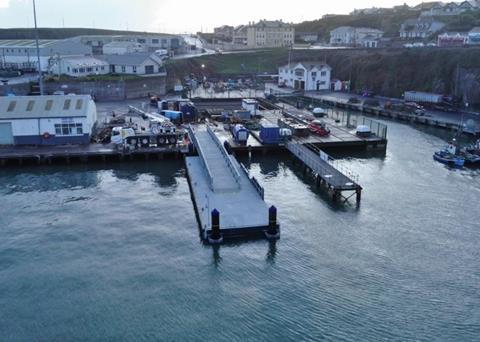 Installed in December 2020, the new berthing facility has been built to service the RNLI as well as provide safe and secure access ashore for various users, including cruise ship passengers.
The shared 27m long x 7m wide steel tubular pontoon is a new product from ICMS, employing waterproofing and paint system technologies not previously used on its other projects. Moored on piles, it has a 32m access gangway and is surfaced with durable Glass Reinforced Plastic (GRP) decking with excellent anti-slip properties, offering all users confident footing on a stable platform.
"Weighing in at 90 tonnes, we fabricated the tubular pontoon in six pieces to make it less challenging to manoeuvre," says Oliver Shortall, Managing Director at ICMS. "We then joined the pieces together in the dry dock at New Ross Boat Yard in Co. Wexford prior to floating the massive structure and towing it to its new home at Dunmore East."
Cormac O Donoghue from the Department of Agriculture, Food and Marine comments: "Working closely with us to fully understand the brief and what needed to be achieved, Inland and Coastal developed a bespoke solution catering for all stakeholders.
"The RNLI now has somewhere secure for its crew to launch from, allowing them to provide a safe environment for anyone out on the water in the area, while the cruise ship passengers can easily access the bustling fishing village, increasing footfall to local businesses during the tourist season."
By Jake Frith