A novel type of diesel outboard that will challenge the existing engines currently on the market has been developed by Hyundai Seasall writes Dag Pike.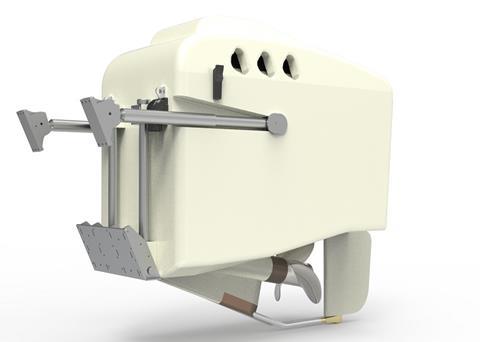 Called the S30-OB this new drive system features many of the advantages of an outboard motor and combines this with a rugged simplicity of a tried and tested conventional inboard shaft drive system. This new diesel unit is powered by Hyundai's 270hp diesel engine but it is the way this power is transmitted to the propeller that is new. The engine is close coupled to a drop-down reverse gearbox that not only lowers the drive shaft below the engine but also reverses its direction. This allows the propeller shaft to exit below the engine at a shallow angle to produce the thrust.
The whole unit is housed in a casing that it bolted to the transom with the casing allowed to hinge vertically under the control of two hydraulic rams. This allows the trim to be adjusted when underway and also allows the whole unit to be tilted out of the water. Rather than have the unit swivel for steering like a conventional outboard, the steering is by means of a rudder mounted behind the propeller in the conventional way with the actuating mechanism inside the engine housing. A narrow strip under the propeller helps to protect it from ropes and debris.
With a power output of 270hp this new diesel 'outboard' challenges the existing diesel outboards on the market and there are plans to produce a unit with a higher power of 360hp that will make it the most powerful diesel outboard on the market. A smaller 140hp unit is also planned to offer a range to meet many workboat requirements. An option with the unit is to add a side thruster attachment and a hydraulic power take-off is also possible.
This new outboard system was originally developed for use by South Korean fishing boats where it is already in use. It is now planned to market it worldwide where it is likely to be attractive to workboat and fishing boat operators where diesel fuel, reliability and torque, rather than high speed are the users' main criteria.