Luebeck, Germany-based J. Johannsen & Sohn has added to its fleet with the acquisition of a tug from Norway and a hint that more similar additions may be on the way.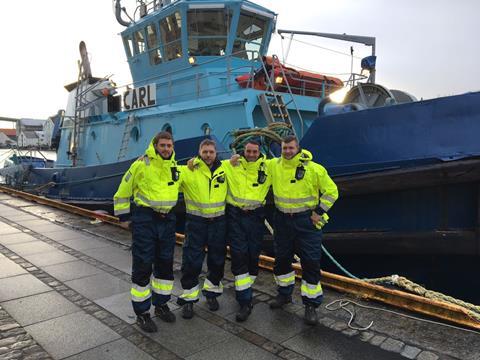 Johannsen's latest vessel, now renamed Carl, previously operated as Felix, part of the fleet of Norwegian tug owner Østensjø Rederi. The acquisition is aimed at expanding the offshore and towage services offered by the new owner and following its arrival in Rostock is now homeported at Lübeck. Johannsen used to operate here but in 2011 moved its tugs Axel and Michael to Rostock to work in cooperation with close partner Fairplay Towage. It is expected that Carl will be working out of different ports and on the spot market in northern European waters.
Carl was built in Canada by East Isle Shipyard in 1995, one of three similar tugs of Robert Allan Ltd design for Atlantic Towing Canada and carrying the original names Atlantic Spruce (now Carl), Atlantic Fir and Atlantic Hemlock. The first two later transferred to Østensjø to become Felix and Alex, the latter currently working for Kotug Smit Towage in Rotterdam as the SD Jacoba. Third in the series (Atlantic Hemlock) is still listed with Atlantic Towing.
With a length of 30.8m, Carl is powered by twin Caterpillar 3516TA main engines in turn driving twin Aquamaster azimuth thrusters. Performance figures include a bollard pull of 52t and maximum speed 13kn and with fuel capacity of 260m3 and 36m3 of pot water, the vessel's low fuel consumption figures led to the new owner commenting "the tug won't be seen at bunker stations very often."
Michael Schaefer, owner and CEO in the 5th generation of J. Johannsen & Sohn stated: "With Carl we found a vessel which ideally fits into our segment and which we can use variably in supra regional markets. Certainly an attractive price compared to her standard and outstanding maintenance status convinced us to select the tug amongst a group of candidates."
Hinting that this latest acquisition will be just the first of a number of similar fleet additions Mr Schaefer added: "Carl will only be the first of a number of fleet additions …Thus we see difficult markets in many branches of our industry we expect attractive used and newbuilding tugs of good quality coming for sale at low prices."
In order to support its own purchase ambitions, Johannsen recently started to offer technical management of offshore supply tugs to third parties, the first candidate taken under a contract in August 2016 with more vessels expected to follow. Along with the towage business Johannsen operate various services in the ports of Lübeck and Wismar including mooring, stevedoring and cargo lashing operations with a team of around 60 employees.
By Peter Barker