A new underwater hull inspection service for classification societies is now available in Falmouth, UK writes Graeme Ewens.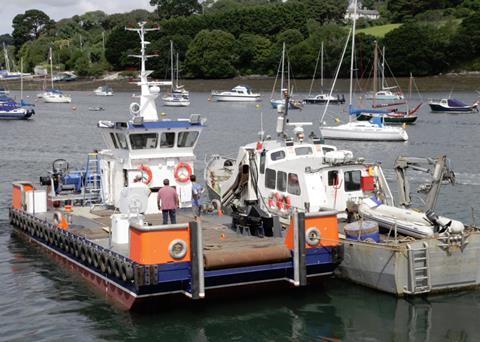 Ships arriving in UK waters call at Falmouth anchorage for a variety of reasons, including underwater class approved surveys, maintenance and damage inspection to save on the costs and time delay of dry-docking, and now there is a new provider of UWILD (Underwater in Lieu of Drydocking) surveys available for classification bureaux. Since the recent closure of Sub Marine Services, this service has not been available locally but now marine contractor SeaWide Services has achieved full ISO 9001 certification, along with HSE and ADC (Association of Diving Contractors) accreditation for special periodic and annual survey of vessels classified by ABS (American Bureau of Shipping) and DNV-GL (Det Norske Veritas (Norway) and Germanischer Lloyd (Germany). The company has also applied for Lloyds and Bureau Veritas accreditation.
SeaWide Services is a diving and salvage specialist, as well as mooring and general marine contractor, which has been active for almost 50 years, led by Captain Brendan C Rowe. The company has many years' experience of ship maintenance and survey, and has a pool of a dozen trained divers on hand. It was active in the rescue, repair and immobilisation of the Russian bulker Kuzma Minin which went aground in December 2018 (MJ January 2019).
For classification surveys the company deploys a minimum five-man dive team, including a dive supervisor, and has recently acquired a state-of-the-art C-Technics subsea video and voice recording system to monitor dive surveys and feed data to the surface, while providing the ship owners with video evidence.
With the appropriate bureau surveyor on board, a classification survey involves inspecting general hull condition, making sure sea chest gratings are clear and intact, checking steering gear and propellers, making periodical tests of stern tube wear-down measurements and the same on various rudder clearances. The system can be used by two divers simultaneously with cameras that can be hand-held or hat-mounted for other kinds of work, such as replacing or polishing propellers on super yachts.
The company has two dive support vessels, Boy Brendan and Obervargh (MJ August 2019). One of the first inspections made in Falmouth Bay was on the loaded product oil tanker Polar Cod, (73,919 DWT) with a 14.5m draft, which meant that divers' bottom times were limited. The clear waters of that sheltered anchorage give great underwater visibility but the company operates anywhere in UK coastal waters.