German shipyard Abeking & Rasmussen says two 25m SWATH pilot tenders just ordered by Houston Pilots will be the first from the yard to be fitted with engines to meet new US emission rules.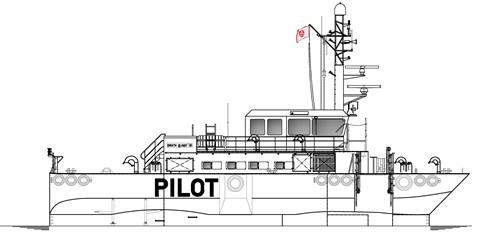 The SWATHs (Small Waterplane Area Twin Hull) are for delivery "in less than 18 months" from now and A&R Special Vessels Marketing and Sales Manager Verena Henk told Maritime Journal they will be "the first SWATH pilot tenders to be fitted with Diesel engines meeting the latest U.S. EPA Tier 3 emission regulations and will drive fixed propellers via Reintjes reduction gearings".
Henk said the engines would be mounted in each hull, presumably four systems in all. No further engine details were immediately revealed but A&R did say the new boats would operate at speeds of 19.5knots. They will be 25.65m long, 13m wide, draw 2.7m and have room for 12 pilots and a crew of four.
The keel for the first of the new SWATHs has just been laid at A&R in Lemwerder on the Weser just downstream from Bremen.
Houston Pilots was the first pilot organisation to recognise and adopt the SWATH concept more than two decades ago. The ships have proven themselves ever since, said Nils P. Olschner, Managing Director of A&R Special Vessels. They also served as the prototypes for Döse the first SWATH tender built by A&R in 1999.
The original Houston Pilots boats are nearing the end of their operational life and Olschner said that in seeking replacements, the Americans had ordered at the German yard having recognised the suitability of A&R-built SWATH ships in service with German, Dutch and Belgian pilot organisations. Olschner said he was very proud of the order. "We have come full circle with this", he declared.
Olschner noted that A&R SWATHs were being constantly modified and improved for a wide range of tasks.
Since 1999 the yard has built SWATH ships of 25m, 40m 50m and 60m. Many serve as high-stability pilot, crew transfer or wind farm service boats, but they have also included SWATHS to meet other needs.
A&R delivered the world's first series of five high speed 25.7m SWATH patrol boats with 20 knot MAN D 2842 Diesels for service with the Latvian Navy. It also supplied Germany's first 25m research and survey SWATH to Estonia.
One unique product has been Silver Cloud, the first SWATH for private pleasure rather than commercial pilot or coastal operation. When it was delivered, its American owners praised its performance and functionality and said it was spacious and comfortable.
That 41m SWATH was designed and finished at A&R but has steel hull and aluminium superstructures built in Russia. It is modelled on A&R's 50m SWATH pilot station ship Elbe, built in 2000.
By Tom Todd