Marchwood Military Port on Southampton Water, UK which handles global shipments supplying British troops on operations overseas and is also extensively used as a berth by the Royal Fleet Auxiliary in support of the Royal Navy, is to be run by a new private joint venture from October 1.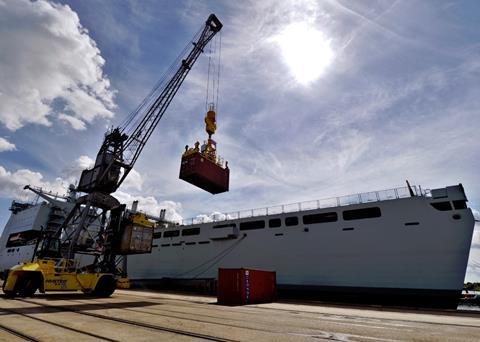 Transport specialists David MacBrayne Ltd (DML) and global logistics firm GBA (Holdings) Ltd, have teamed up under the name Solent Gateway to operate a 35-year concession to run the 330-acre facility alongside the military.
The facility is one of the UK military's major logistics ports, set close to the New Forest and with the deepwater access offered by Southampton Water, which plays host to some of the world's biggest container vessels and cruise ships.
Solent Gateway says it is looking to fill 50 civilian posts as its workforce in support of operations carried out by 17 Port and Maritime Regiment and 165 Port and Maritime Regiment.
The outsourcing move was due to start in April but was put back until October 1 but this date has again been pushed back. A spokesman for Solent Gateway said that the reason was down to a procedural delay and was a minor technicality but he remained confident that the transition would happen in a few weeks' time.
Solent Gateway's shareholders are Scotland-based David MacBrayne, which currently manages operations at 24 ports, harbours and slipways as CalMac Ferries, and Grimsby-based GBA (Holdings) Ltd, which is an end-to-end logistics company, established some 28 years ago providing services to the automotive, shipping and renewables industry.
One of the key attractions for Solent Gateway is the opportunity to use excess capacity at Marchwood for commercial shipping operations. However, the company could face a huge battle with local residents and major ports operator Associated British Ports (ABP), which owns the neighbouring port of Southampton, before it can implement those plans. Although there is a railway link into the port, it is mainly served by lesser roads which run through the small village of Marchwood and its rural surroundings.
Solent Gateway's chairman, Sam Judah, said: "Full details of our longer-term commercial plans for the port are still being worked through and these will be shared with the local community as we familiarise ourselves with the project and start to look at what will be feasible.
"Meanwhile we will be concentrating on the core function of supporting army operations at Marchwood. The port presents significant opportunities for additional commercial development and further job opportunities on site. However, we appreciate the sensitivities of the local environment any plans we have will be shared locally when we are in a position to do so."
ABP is thought to have been disappointed that its own bid to run Marchwood failed, having unsuccessfully tried to develop a major container terminal at the adjacent Dibden Bay some ten years ago. It also recently purchased a nearby industrial park which would have supported is own commercial plans for Marchwood.
Marchwood councillor David Harrison said: "The prospect of 50 new jobs will be widely welcomed, with local people hoping that many more will follow.
"However, I have some anxiety that Solent Gateway are firming up their plans before talking to locally-elected representatives."
By Phillip Rood