Multibeam sounder manufacturer WASSP of Auckland, New Zealand has extended its range of units with introduction of S3, an entry-level system incorporating an all-in-one digital DRX transceiver, touch-screen compatible software for 2D/3D mapping and a flexible transducer cable for added portability.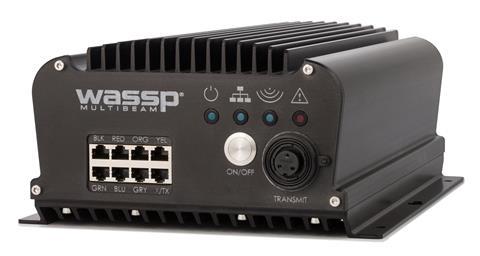 Officially launched at the recent Oceanology International event in London, the system is claimed to be one of the first of its type to bridge the the gap between multibeam and single beam technology, due in part to a quoted price tag of US$15,000. Options available include a number of turnkey packages covering position/heading and motion sensors while a system can be readily configured using a simple web browser interface.
Tablet controllable and scanning a 120-degree swath width using 224 beams, WASSP says the system is available throughout Europe and elsewhere via Furuno's network of distributors and is typically ideal for dredging support, coastal and estuary mapping and wreck hunting. The company, whose sales of earlier systems for hydrographic and fishery applications exceed 1100 items, was a leading participant in last year's investigative Shallow Survey conference in Plymouth, UK.
By David Goodfellow