HamiltonJet has unveiled its HTX52 – the latest model in its HTX series of waterjets and claimed to be the New Zealand company's fastest, most durable waterjet yet.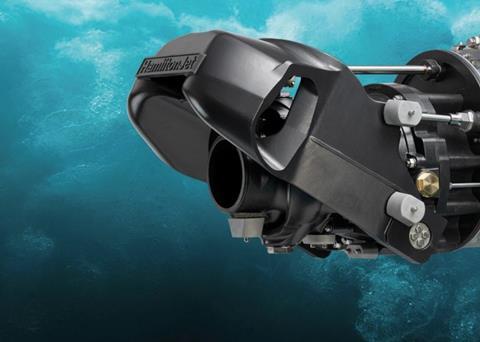 HamiltonJet CEO Ben Reed says the HTX Series is the company's next generation of waterjets: "HTX is the culmination of our vast experience fitting 60,000 waterjets into vessels around the globe over the last seven decades. While the entire series features redefined performance, enhanced durability and easier installation, HTX52 really steps up to achieve some stunning results".
HamiltonJet makes some impressive claims for the HTX52. The company states that it is capable of: a four per cent increase in high-speed efficiency, a seven knot improvement in minimum speed, a 20 per cent increase in bollard pull, 22 per cent higher maximum rated power and 10% more corrosion protection in brackish waters. The headline figure though is that it is said to be achieving speeds in excess of 55 knots (when combined with the right engine and hull form).
HTX52 also has improved steering systems and hydraulic sealing to extend its life, while the anode change interval has been pushed out to two years.
It is claimed to also be compact and narrow, and hence easy to install - via through-transom installation. Integrated inboard hydraulics are part of the jet.
By Jake Frith